By Chris Bennett, CSI, iSCS, CDT, Bill Dubois, AIA, CSI, CCS, John Guill, FCSI, AIA, IIBEC, SCIP, CCS, CCCA, Keith Robinson, RSW, FCSC, FCSI, Rae Taylor, PhD, and Jonathan Ware, AIA, LEED AP, LEED CxA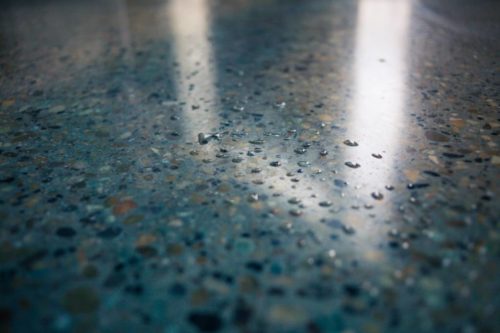 Concrete slab surfaces have voids. They can be big or small. Voids might come in the form of visible cracks, a dislodged piece of aggregate, or much smaller spaces on the micro or nano scale. Voids might be produced later in a slab's life due to floor traffic over a curled joint. When joints break down, visible voids are created, wear and tear at uneven portions of the slab is increased, and additional maintenance costs are incurred. These voids are the weak points that reduce a slab's life span and increase permeability—thereby allowing dirt and abrasives to quickly wear away the surface—as well as the susceptibility to damage by moisture, contaminants, and other negative traits that facility owners do not want for their exposed concrete walkway surfaces.
For existing concrete, one can either deal with these voids through coating (sometimes referred to as sealing) or by refining and changing the surface via polishing. Unfortunately, not enough members of the project team are fluent in differentiating between the coating products of Division 09 and the cementitious products of Division 03. The terms "coatings" and "polishing" are often confused, especially when it comes to the many clear coating technologies available.
Coatings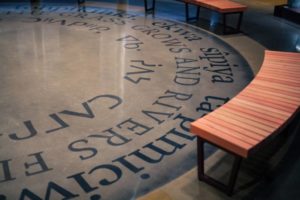 There are many types of concrete coatings from polyuria, polyaspartic, and polyurethane to epoxy and acrylic. There are many concrete coating types available on the market. Polyurethane usually does not bond well to concrete, but epoxies do. This means these coating technologies are often used together. Epoxies fill voids and polyurethane coatings are used as the finish coat to establish slip-resistive, durable, and esthetically pleasing floors.
Water-based coatings, such as acrylics, are quick and easy to apply, but require frequent maintenance and repairs, making them a less sustainable option when compared to solvent-based coatings. The latter generally lasts longer but can turn yellow or amber when exposed to ultraviolet (UV) light (in the case of epoxies) or with oxygen reactions to the solvent (in the case of acrylics, polyaspartic, and polyurethane). Two- and single-part products containing no solvents have become more readily available in recent years as technologies advance to combine various hardening and adhesive properties, which reduces many of the concerns for appearance retention.
Siloxane and silane coatings are derived from the silicon molecule and can penetrate deeper under the surface of slab than conventional coatings, providing the ability to repel water and offer protection against salt. The downside to these types of coatings is their lack of chemical resistance and the need for reapplications. Floor coatings with high solid content may be inappropriate in certain industrial and commercial applications, as they will easily become tarnished from forklifts and foot traffic.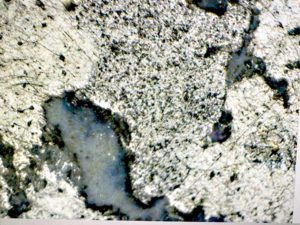 Some coatings can enjoy high gloss if burnished. However, this can be confused with polished concrete installations. Gloss benchmarks for coatings include distinctness of image (DOI), similar to the auto coatings industry. As coatings tend to be film-forming by nature, maintaining higher traction levels, and thus a higher coefficient of friction (COF), can be more difficult. Epoxy coatings, including thin-mil coated floors made by resin-tool transfer (when epoxy matrix diamond tooling melts and becomes smeared across the concrete leaving a temporary shine), can decrease COF. Anti-slip broadcast agents may need to be used to ensure safer walking surfaces. With slips, trips, and falls listed as one of the "fatal four" injuries, and 67 per cent of those happening on the same level, an appropriate COF is an important component to user safety.

Control the content you see on ConstructionCanada.net!
Learn More.