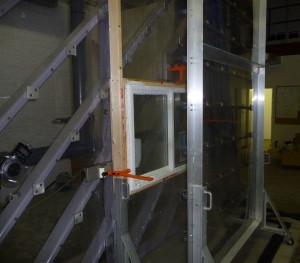 Architectural Testing Inc.'s (ATI's) first Canadian laboratory opened in Winnipeg last week, enabling the country's window and door manufacturers, architects, and specifiers to perform more locally based testing of fenestration products and systems.
All testing facilities, personnel, and methodologies will be fully accredited to International Organization for Standardization/International Electrotechnical Commission (ISO/IEC) 17025, General Requirements for the Competence of Testing and Calibration Laboratories, by the International Code Council's (ICC's) International Accreditation Service (IAS). The Winnipeg facility will also be accredited by the Canadian Standards Association (CSA) for conducting window and door certification tests, and by the American Architectural Manufacturers Association (AAMA) and Dade County, Florida, for conducting window and door certification tests specified by those authorities.
The 650-m2 (7000-sf) building is equipped to conduct testing for the basic window and door performance attributes of resistance to wind-loading, water leakage, air infiltration, and forced entry. A positive test report enables product certification and compliance labelling per AAMA/Window and Door Manufacturers Association (WDMA)/CSA 101/IS2/A440, North American Fenestration Standard(NAFS), mandated by the National Building Code of Canada (NBC).
Additional tests can be conducted for resistance to impact from wind-borne debris (critical for products intended for use in hurricane-susceptible zones, as required by Miami-Dade testing application standard [TAS] test protocols), negative pressures, and for the performance of mulled assemblies. Various other methods for testing to AAMA and ASTM requirements are also available.
"We will constantly research and analyze other opportunities for expanding our scope," ATI's Bryan J. Boyle told Construction Canada Online. "For example, we are already looking at the market for insulating glass testing as well as thermal simulation and testing. And of course, the Winnipeg office will continue to provide building envelope commissioning services as we have done for the past 20 years."
Additionally, the Winnipeg facility offers a regional platform for industry-leading building envelope commissioning (BECx), forensic investigation, and field-testing services.