Fans of the green building boom
by Katie Daniel | July 9, 2015 9:09 am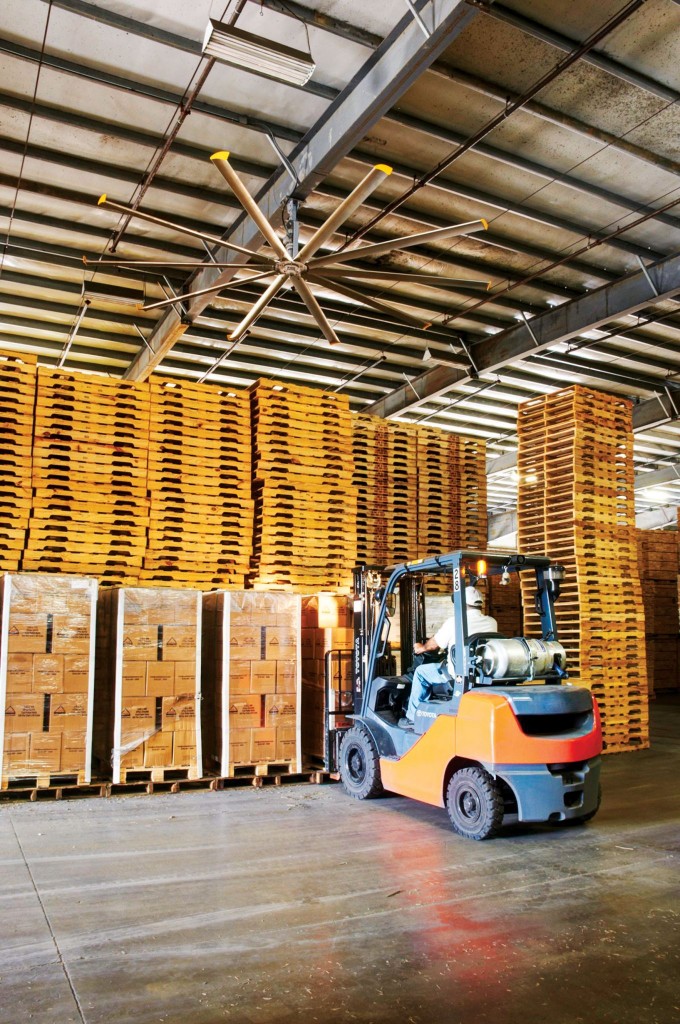 By Rachel Tsvetanov
Canadian green construction is booming, with research[2] indicating the trend is not slowing—by 2017, the amount of green construction projects will double, motivated by the desire for high-quality, environmentally responsible buildings.
At its core, green building is a focus on making smart and sustainable decisions about building site, water use, energy and atmosphere, materials, size, and indoor environmental quality, both during construction and over the life of the building. Efficient HVAC systems are critical to these goals, but full air-conditioning upgrades are often costly and cumbersome. An increasingly popular solution is the incorporation of high-volume, low-speed (HVLS) fans and ultra-efficient residential fans into the design and renovation of commercial and industrial spaces.
With the rise in green building comes an increased focus on the problems of traditional HVAC design. In the 1990s, research linking freon to ozone depletion pushed innovation of more environmentally responsible refrigerants and more efficient HVAC equipment. This research highlighted the shortcomings of traditional overhead HVAC designs that feature a single distribution system and regulate temperature based on the conditions surrounding a thermostat.
In the winter, this setup created heat stratification when warm air, which is approximately five to seven per cent lighter than cool air, rises to the ceiling. This increases the temperature at the ceiling, effectively wasting energy by distributing heat to areas without occupants.
The recent versions of the American Society of Heating, Refrigerating, and Air-conditioning Engineers' ASHRAE Handbook recommend including measures to avoid heat stratification. A 2007 ASHRAE Journal article points to the fact "in spite of this, engineers continue to design systems delivering low-velocity, high-temperature air at the ceiling" and therefore do not meet the minimum standards for thermal comfort and ventilation.
Ceiling fan innovation
HVLS and ultra-efficient residential fans solve traditional HVAC problems through air movement, shifting the system focus from the thermostat to the occupants. HVLS fans are traditionally defined as fans more than 2.13 m (7 ft) in diameter that include airfoils and are ceiling-mounted. They improve heating capacity by moving large volumes of air slowly and gently, simulating natural air movement without creating drafts.
In warmer months, HVLS fans make building occupants feel cooler. While air movement does not lower the actual temperature in a space, the perceived effect can make an occupant feel up to 5.6 C (10 F) cooler.
Pairing a HVLS or ultra-efficient smaller fan with a traditional HVAC system allows thermostat setpoints to be raised in air-conditioned spaces. The thermostat setpoint can be raised by approximately 2.7 to 3.9 C (5 to 7 F), saving energy without sacrificing comfort. Increased thermostat setpoints due to fan use can result in an up to 25 per cent reduction in energy costs from decreased air-conditioning usage. For less-severe climates, the cooling effect provided by fans can minimize, or even eliminate, use of refrigerant-based air conditioning systems.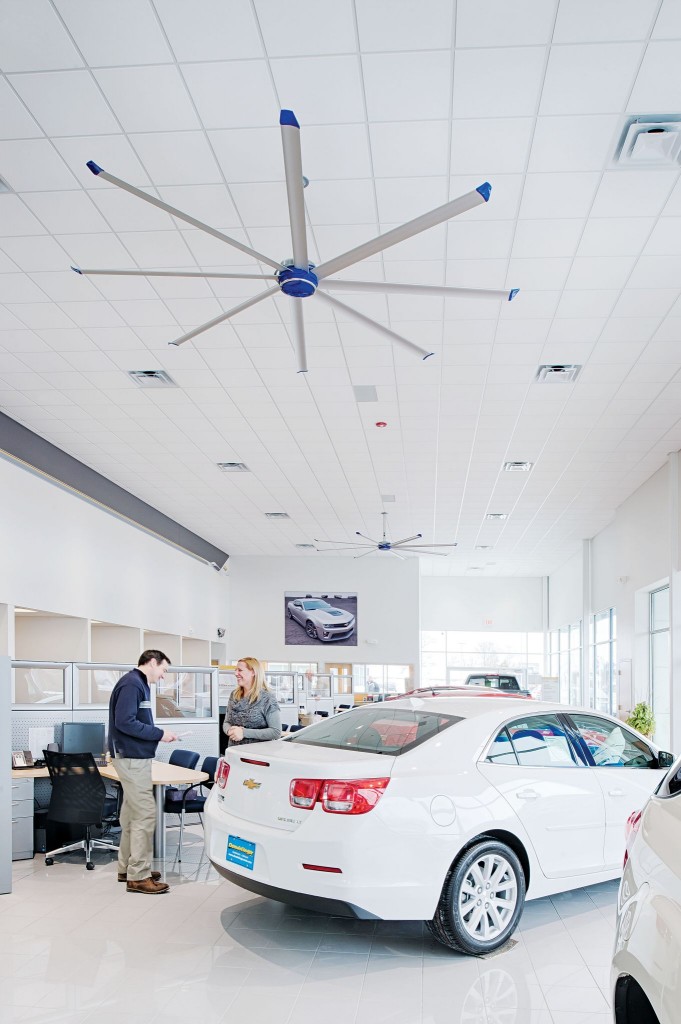 People often think of fans as a summertime option, but winter savings can also be significant. In the winter, HVLS fans are slowed, rather than reversed. Slowing fans circulates heat by slowly moving large volumes of warm air off the ceiling without creating the drafts caused by reversing a fan. The steady mixing of air creates a uniform temperature throughout the space, helping the heater maintain the same temperature at the occupant level with less effort.
Innovations in century-old fan technology, combined with shifting attitudes toward traditional HVAC, have made ceiling fans popular in all types of spaces. Fans have been used for decades in agricultural and industrial applications like barns and warehouses, but the development of silent direct-drive motors over the last decade has sparked demand for large fans in churches, schools, hospitals, and retail spaces.
Redesigned fans rely on improved motors, aerodynamics, and system efficiency to increase the amount of area covered by elevated air speed. Direct-drive motors, which eliminate the need for the gearbox, reduce operating noise to an inaudible level for sound-sensitive applications.
The other key innovation reducing drag is the development of airfoils, inspired by airplane wings, which replace the traditional flat blade of a conventional ceiling fan. A well-designed airfoil has a smooth upper surface, which creates low drag, and a concave lower surface that directs air downward to create high lift. Combined with winglets and air fences, to further increase airflow and fan efficiency, HVLS fan technology improvements lead a coverage area of up to 10 times the fan's diameter.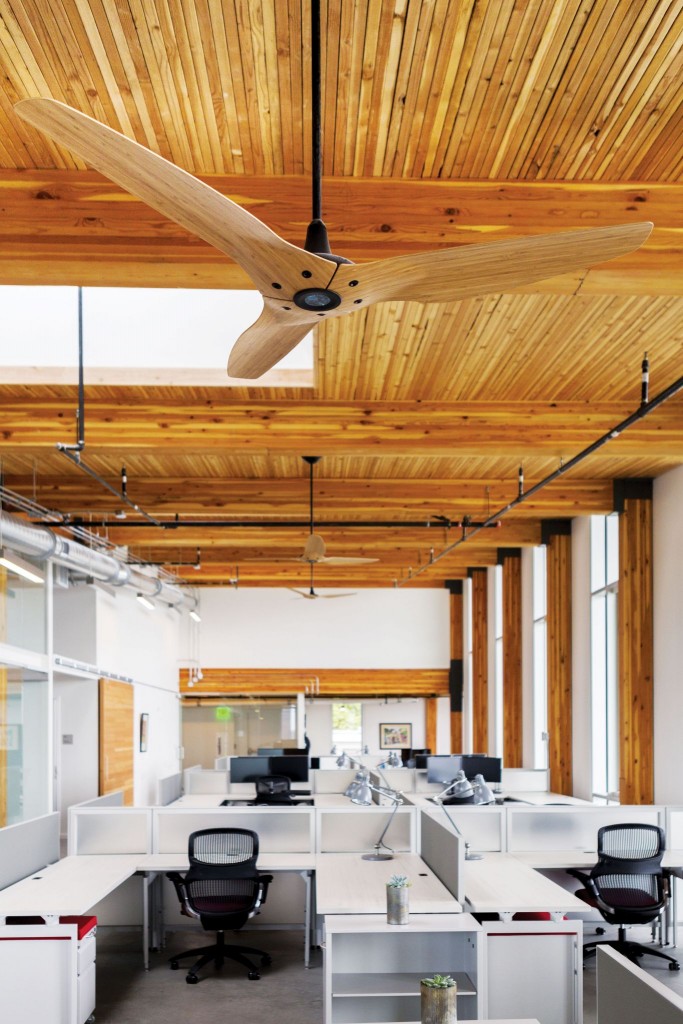 Energy efficiency
Energy Star, registered by the U.S. Environmental Protection Agency (EPA) and operated nationally by Natural Resources Canada (NRCan), ranks the efficiency of common home products, providing a glimpse at recent advances in residential fan technology. Energy Star-rated fans use an average of 65 W of electrical input power at the highest setting, while traditional fans employ an average of 90 W. Top-rated models are nine times more efficient than those that meet the baseline standards. However, Energy Star does not test efficiency of HVLS fans, so customers should ask manufacturers about their testing protocols.
In Canada, the energy savings provided by fans translate into rebate potential. Office supply chain Staples turned to HVLS fans in the renovation of its Mississauga, Ont.-based distribution centre. Prior to the renovation, the facility used only a rooftop gas heating system and no air-conditioning. Working with the energy rebate incentive manager at a local HVAC company, Staples facility managers were able to model potential energy savings of 100,000 kWh per year by incorporating five 6.1-m (20-ft) HVLS fans.
These types of fans, which save on both heating and cooling, may qualify for both gas and electrical rebates, depending on the availability of local programs. Provincial rebates offset more than one-third of the total renovation costs for the Staples project. In addition to the calculated incentives from the rebates, the installation of HVLS fans also provided long-term savings on operating costs and increased worker comfort.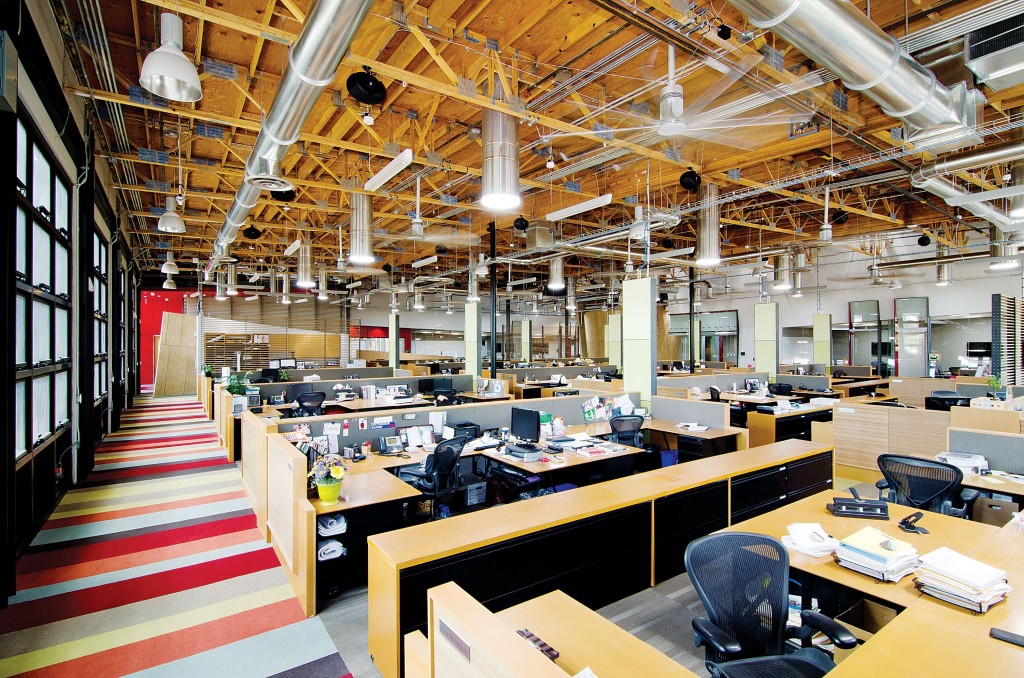 Health and productivity
Employee comfort has been linked to financial savings for companies. A recent report[6] by the World Green Building Council (World GBC) on health, well-being, and productivity concluded improvements in environmental conditions "can have a significant financial implication for employers" by improving employee health and productivity. This underscores the advantages of using HVLS fans—either in tandem with or as a replacement for traditional HVAC systems—to increase productivity and in order to decrease energy consumption.
Research and occupational safety standards indicate air temperatures in excess of 35 C (95 F) significantly increase the heat load on the body, with temperatures above 38 C (100 F) dangerous for workers. When temperature and humidity levels rise, the body's natural ability to cool itself decreases, which is not good for employee health or productivity.
A U.S. Department of Energy's (DOE's) report stated "building retrofits which improved the indoor environment of buildings resulted in a reduction of communicable respiratory diseases, reduced allergies and asthma and non-specific health and discomfort effects." The result was an estimated potential annual savings of $US 20 to 50 billion in productivity gains.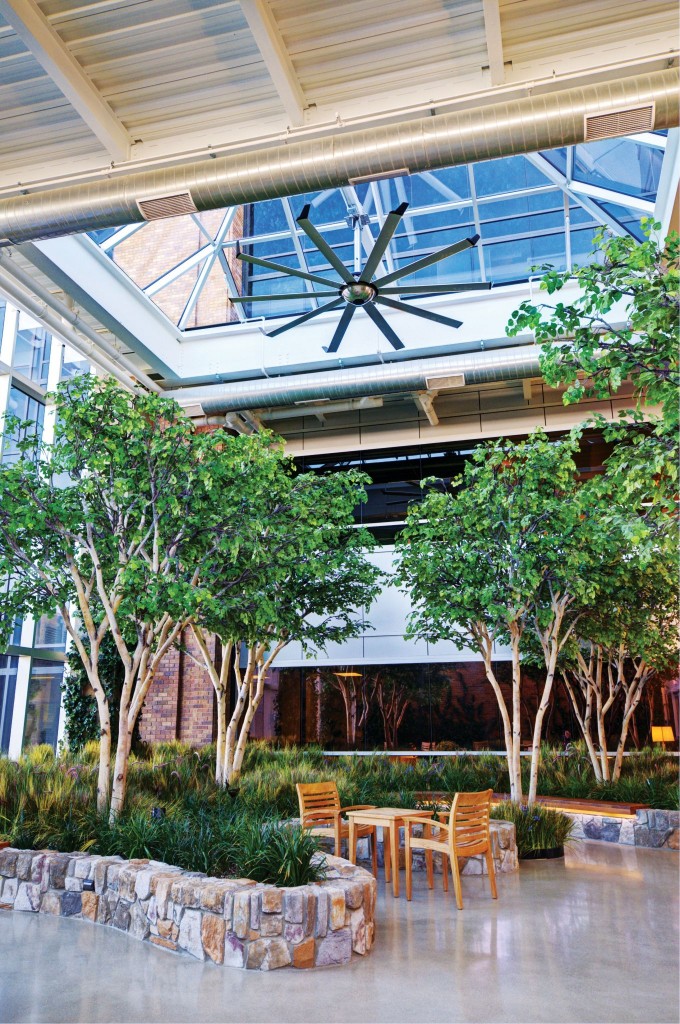 A Regina auto dealership found out firsthand about the link between fans and productivity gains. Colin Konanz, director of fixed operations for Capital GMC Buick and Cadillac, knew a traditional HVAC system alone was not a cost-effective solution for his 6967-m2 (74,992-sf) facility.
Located in the heart of Saskatchewan, the dealership needed to provide a comfortable environment for customers and workers year-round, despite dramatic weather shifts and temperatures ranging from −21 to 25 C (−6 to 77 F). Capital GMC's traditional heating system had to run at its highest capacity to provide minimal heating to the workers at the floor level.
One of the most difficult areas to keep comfortable was the body shop. Even if the company installed air-conditioning, it knew the constant opening of the garage doors would make the system too costly to run. According to Konanz, so much heat was trapped at the ceiling during the winter that steam came off the overhead fluid delivery system and the workers could not touch it.
In 2014, Konanz installed 20 HVLS fans in the showroom and the body shop. He bought the fans to keep customers comfortable and decrease the amount of time his cars were exposed to extreme temperatures. While the fans achieved these goals, the most unexpected and lasting impact was on employee morale and motivation—critical for the long-term success of any business.
"When someone is more comfortable," he said, "their attention to detail is better and their productivity improves."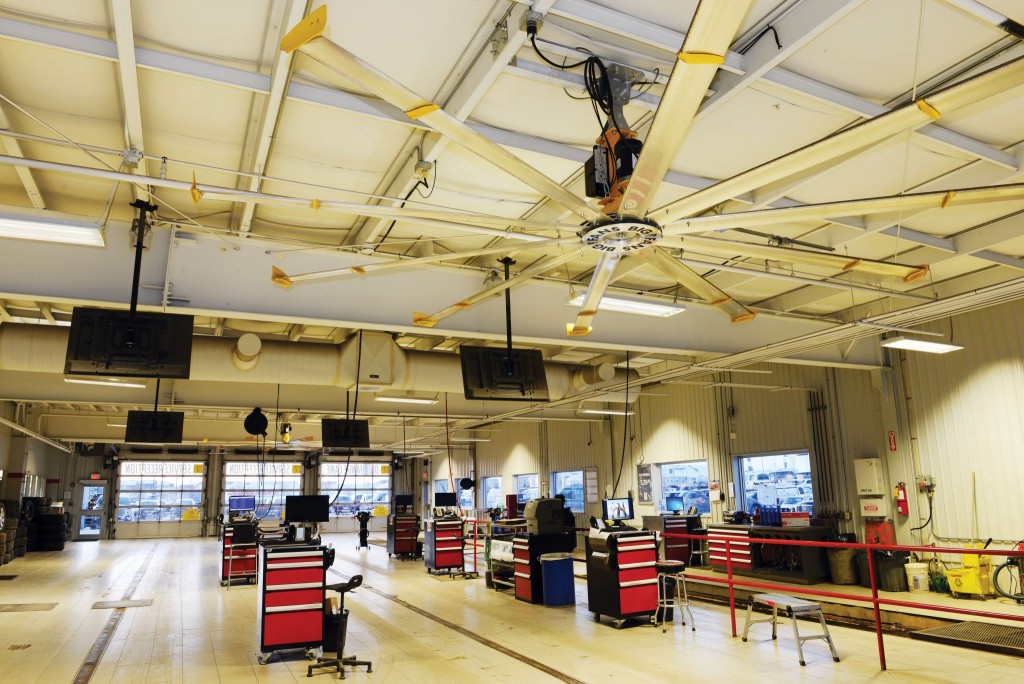 Fans and holistic design
The integration of design, construction, building operations, and human health is most evident in the growing field of green certifications and achievements. Fans can critically reduce energy consumption for buildings working toward ranking or assessment through green certifications.
When Kentucky's Berea College started planning Deep Green, an ecologically advanced dormitory, they incorporated both HVLS and ultra-efficient residential fans into their design. The building relies on features that work in unison: energy-efficient glass windows, shades, ceiling fans in each room and HVLS fans in common areas. Together, the system components give the building a higher thermostat setpoint in the summer and an overall energy savings of 58 per cent when compared to other dormitories. The finished building achieved Platinum under the Leadership in Energy and Environmental Design (LEED) program, along with Living Building Challenge Petal Recognition and Net Zero Ready Status.
Aside from the list of accolades and innovations, the project is a model of more-efficient HVAC system design in new construction. Research suggests the fastest adopters of green products are architects and engineers; Deep Green is a prime example of this movement. The team incorporated fans from the inception of the project onward, and worked closely with local manufacturers to model energy-use savings, review materials requirements, and ensure a holistic HVAC system and an integrated design approach.
Canada is poised for a surge in green building, with architects and designers at the forefront of adopting new sustainable practices and materials. Innovative and efficient fan use is key to ensuring HVAC systems meet industry demands.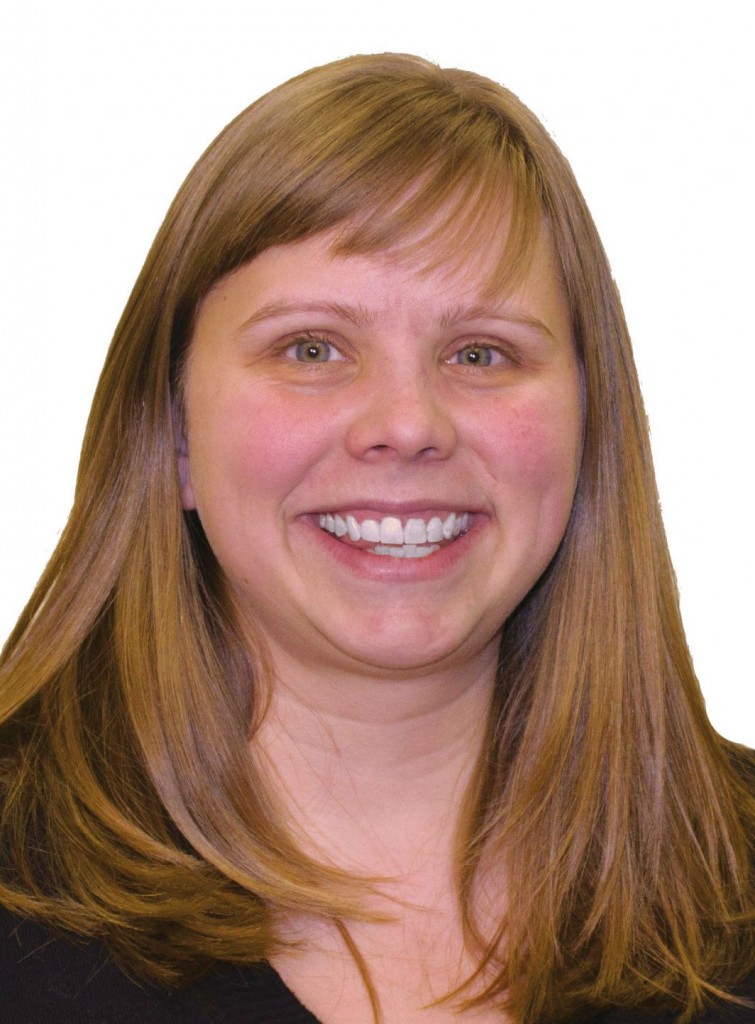 [9]Rachel Tsvetanov is a senior writer for Big Ass Solutions, a designer and manufacturer of high-volume, low-speed (HVLS) fans. She works with architects, designers, and facilities managers on fan and lighting applications for case study development. Tsvetanov also creates content for continuing education courses, green building conferences, and industry publications. She can be reached via e-mail at rachel.tsvetanov@bigasssolutions.com[10].

Endnotes:
[Image]: http://www.constructioncanada.net/wp-content/uploads/2015/07/BigAssFans-Warehouse-4.jpg
research: http://www.cagbc.org/cagbcdocs/resources/CaGBC%20McGraw%20Hill%20Cdn%20Market%20Study.pdf
[Image]: http://www.constructioncanada.net/wp-content/uploads/2015/07/BigAssFans-Auto-5-copy.jpg
[Image]: http://www.constructioncanada.net/wp-content/uploads/2015/07/BigAssFans-Offices-8.jpg
[Image]: http://www.constructioncanada.net/wp-content/uploads/2015/07/BigAssFans-Offices-2.jpg
report: http://www.worldgbc.org/activities/health-wellbeing-productivity-offices
[Image]: http://www.constructioncanada.net/wp-content/uploads/2015/07/BigAssFans-Hospital-2.jpg
[Image]: http://www.constructioncanada.net/wp-content/uploads/2015/07/BigAssFans-Auto-12-copy.jpg
[Image]: http://www.constructioncanada.net/wp-content/uploads/2015/07/Rachel-Tsvetanov_headshot.jpg
rachel.tsvetanov@bigasssolutions.com: mailto:rachel.tsvetanov@bigasssolutions.com
Source URL: https://www.constructioncanada.net/fans-of-the-green-building-boom/
---