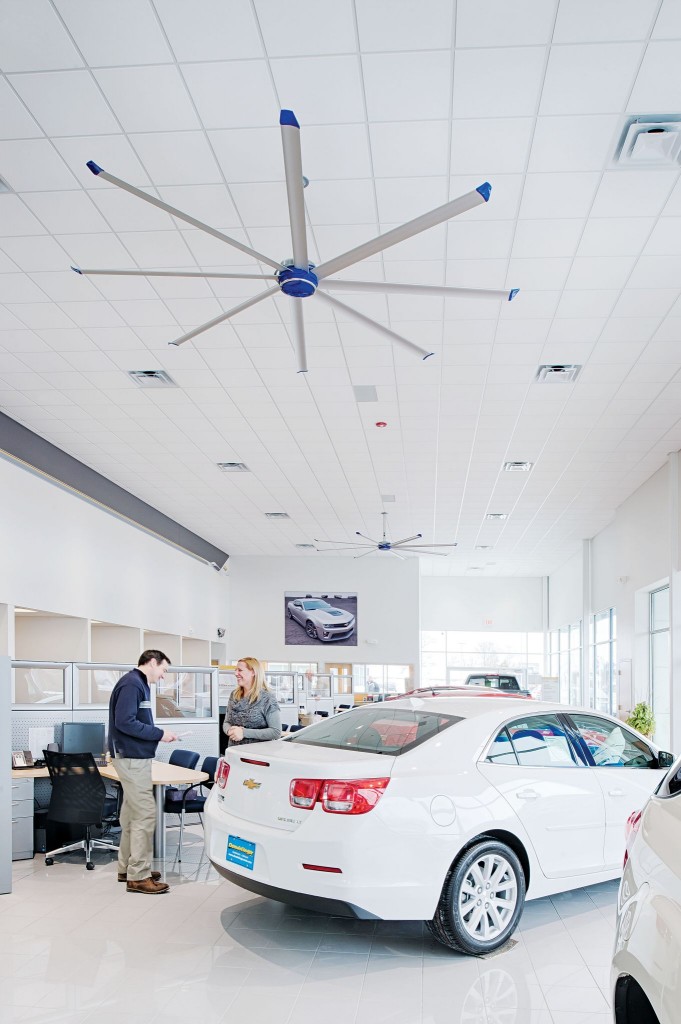 People often think of fans as a summertime option, but winter savings can also be significant. In the winter, HVLS fans are slowed, rather than reversed. Slowing fans circulates heat by slowly moving large volumes of warm air off the ceiling without creating the drafts caused by reversing a fan. The steady mixing of air creates a uniform temperature throughout the space, helping the heater maintain the same temperature at the occupant level with less effort.
Innovations in century-old fan technology, combined with shifting attitudes toward traditional HVAC, have made ceiling fans popular in all types of spaces. Fans have been used for decades in agricultural and industrial applications like barns and warehouses, but the development of silent direct-drive motors over the last decade has sparked demand for large fans in churches, schools, hospitals, and retail spaces.
Redesigned fans rely on improved motors, aerodynamics, and system efficiency to increase the amount of area covered by elevated air speed. Direct-drive motors, which eliminate the need for the gearbox, reduce operating noise to an inaudible level for sound-sensitive applications.
The other key innovation reducing drag is the development of airfoils, inspired by airplane wings, which replace the traditional flat blade of a conventional ceiling fan. A well-designed airfoil has a smooth upper surface, which creates low drag, and a concave lower surface that directs air downward to create high lift. Combined with winglets and air fences, to further increase airflow and fan efficiency, HVLS fan technology improvements lead a coverage area of up to 10 times the fan's diameter.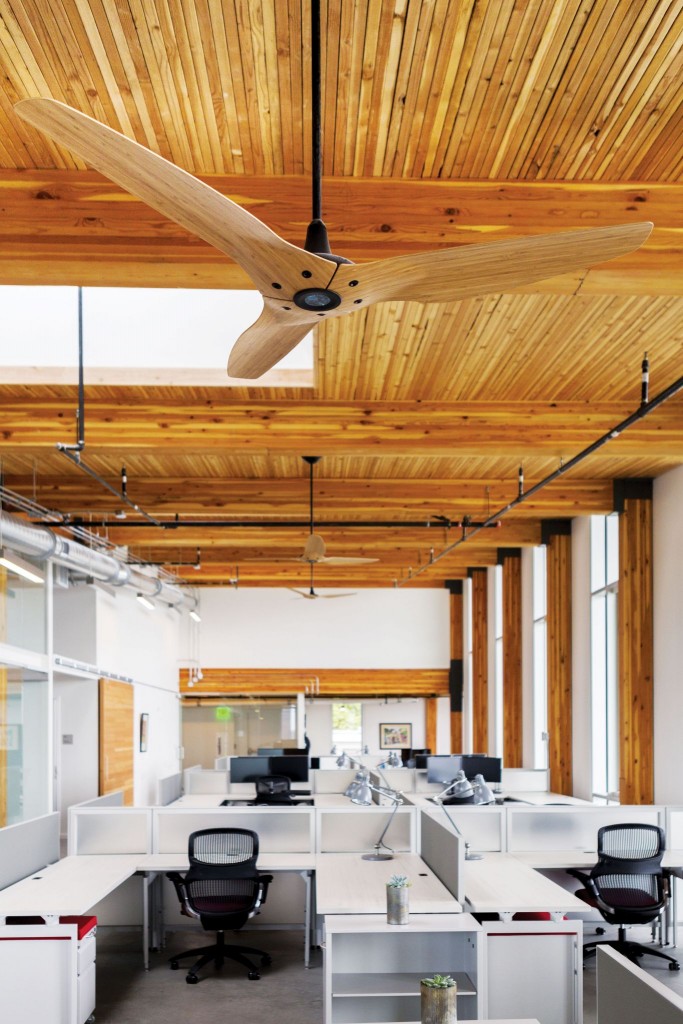 Energy efficiency
Energy Star, registered by the U.S. Environmental Protection Agency (EPA) and operated nationally by Natural Resources Canada (NRCan), ranks the efficiency of common home products, providing a glimpse at recent advances in residential fan technology. Energy Star-rated fans use an average of 65 W of electrical input power at the highest setting, while traditional fans employ an average of 90 W. Top-rated models are nine times more efficient than those that meet the baseline standards. However, Energy Star does not test efficiency of HVLS fans, so customers should ask manufacturers about their testing protocols.
In Canada, the energy savings provided by fans translate into rebate potential. Office supply chain Staples turned to HVLS fans in the renovation of its Mississauga, Ont.-based distribution centre. Prior to the renovation, the facility used only a rooftop gas heating system and no air-conditioning. Working with the energy rebate incentive manager at a local HVAC company, Staples facility managers were able to model potential energy savings of 100,000 kWh per year by incorporating five 6.1-m (20-ft) HVLS fans.
These types of fans, which save on both heating and cooling, may qualify for both gas and electrical rebates, depending on the availability of local programs. Provincial rebates offset more than one-third of the total renovation costs for the Staples project. In addition to the calculated incentives from the rebates, the installation of HVLS fans also provided long-term savings on operating costs and increased worker comfort.

Control the content you see on ConstructionCanada.net!
Learn More.