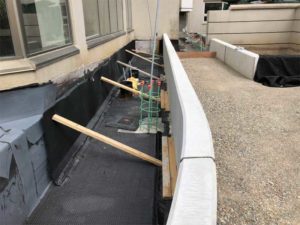 When performed proactively, the assessment is a tool to develop rehabilitation timelines and to anticipate costs, so repair and improvement work can proceed smoothly with detailed pre-planning and without any significant surprises. The condition assessment scope must be developed with consideration for the type of construction, age of the structure, as-built conditions, type of membrane, and knowledge of typical failure and deterioration mechanisms. The scope is intended to allow for collection of necessary and detailed information, and may include a combination of onsite investigation, some type of destructive or intrusive testing, and a comprehensive review of the original building's structural and architectural drawings (if available). The focus of the review should be to understand the age and effectiveness of the podium deck waterproofing system by determining the extent of leakage and concrete deterioration below, and the physical condition, composition, and anticipated, remaining service life of the surface treatments.
A typical podium deck condition assessment would include the following:
visual site assessment of a sampling of podium deck surface and accessible below-grade areas to document existing conditions and identify areas of obvious concern, such as accessibility issues, ineffective drainage, and deteriorated paths of travel to entrances and exits;
acoustical testing of the underside of the podium deck slab to detect areas of concrete deterioration; and
surface test openings to determine the composition of the overburden and allow for visual review of the waterproofing system.
Arborist assessment and reporting will inform design decisions in particular jurisdictions with more restrictive tree bylaws. Permits may be required to cut down or impact trees even when they are on private property. The arborist report is a necessary component in tree permit applications, and outlines the number and size of existing trees, as well as recommendations for protection or removal depending on the rehabilitation scope. An important design consideration is the potential for damage by a tree root system, both to landscaping and underlying waterproofing systems. Trees or other large plants with aggressive roots or taproots require the implementation of measures to protect podium deck waterproofing and landscaping. While drainage layers are often thought of as a root barrier, it is recommended to have a separate geotextile root barrier installed below any areas of planting or trees.
Assessment findings must clearly identify structural and waterproofing concerns, provide recommended courses of action to correct these issues, and outline the impact on landscaping finishes. The report will provide guidance on the finishes to be removed and the options for replacement—at this stage, topics about accessibility and durability of finishes come into play. The landscape architect is engaged after this point, so the engineer should consider current design trends and make assumptions about the types of finishes to be reinstated. Often, discussion with the client can bring out areas of concern and changes they may be looking to include in the redesign. The recommendations should be tailored to owner requirements, such as proposed or intended changes to the podium deck composition and features, since the cost implications guide decisions during design development and implementation.
Design stage
Once stakeholder (e.g. owners, property managers) meetings have been completed and design objectives and budgets are in place, design development work for podium deck rehabilitation or renewal can begin. The design team will be led by a prime consultant, often the restoration (i.e. structural and envelop) engineer, and may include landscape architects, mechanical and electrical engineers, surveyors, arborists, and other specialty consultants. The project team requires an experienced leader to direct the various disciplines toward the project goal while keeping the project on schedule and within budget.
Some parts of design are completed independently of other disciplines, such as legal property surveying and arborist reports, and it is recommended to complete this work as early as feasible. The design team requires this information, and will work closely together throughout the design process. There are internal design team meetings and also progress submission meetings with all project stakeholders. These meetings allow for proper input by all stakeholders so the design progresses fluidly from concept to realization with an eye on budget and site implications. Key design considerations include the following.
Understand site topography
An up-to-date legal and topographical survey of the podium deck in its current state assists the design process and prevents incorrect assumptions that can lead to costly changes during construction. Existing and revised elevations impact site water management. It is important to accommodate for proper drainage that considers existing and revised conditions.

Control the content you see on ConstructionCanada.net!
Learn More.