STONEHAM ARCH BRIDGE HIGHWAY 73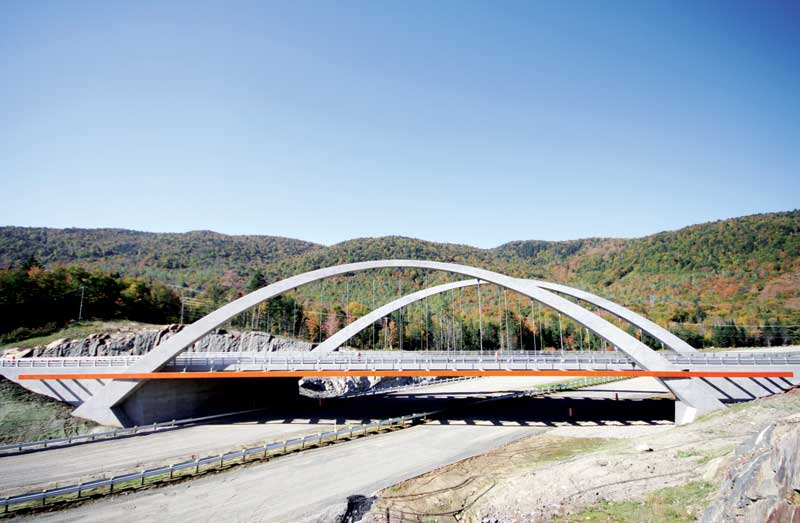 This suspended arch bridge in Stoneham, Qué., is an esthetically pleasing solution to a unique site requirement. The arched bridge design, unusual for a highway overpass, was chosen primarily to overcome two problems: uneven, rocky field conditions and the obtuse angle at which the road passes over the highway (a configuration that does not fit well with typical overpass construction).
This type of bridge, combining steel and concrete, is not often used, and its unique design is very interesting both architecturally and structurally. Galvanizing was employed in all aspects of the bridge, including the structural steel, reinforcing steel in the concrete, and the supporting cables. The choice of hot-dip galvanizing was preferred by the engineer because of its durability and cost compared to weathering steel in this highly corrosive environment. The resulting bridge is a beautiful and cost-effective marriage between structural steel and reinforced concrete.
Conclusion
This article discusses aspects affecting performance of rebar in concrete in broad terms, but the wide variety of factors combine to make it hard to specifically predict which application is ideal for certain types of rebar. The conditions to which the reinforcement is subjected will affect its performance. Each type of rebar performs differently depending on the environment and the corrosion protection benefits each type provides. (With respect to how each type of bar resists corrosion, this author recently wrote a piece for the August 2017 issue of The Construction Specifier, entitled "Embedded in Concrete: Reinforcing Steel Corrosion Protection." Additional background information can be found in the June 2016 Structure article, "Steel Rebar Coatings for Concrete Structures," by Fujian Tang, PhD.)
Protecting reinforcing steel from corrosion is important for many reasons. From avoiding unsafe roads and bridges where concrete has begun to fail to practising sustainable and economic building practices, it is easy to see how important it is to choose the right material to stand up to corrosion. While the factors affecting corrosion vary depending on the type of rebar used and the environment in which the project is located, the choice to use a high-performing, economic bar is essential.
Laura Hanson is the digital marketing manager for the American Galvanizers Association (AGA), where she has worked for more than seven years. She leads the Rebar Focus Group for AGA members while managing the association's various digital marketing initiatives. Hanson holds degrees in design from the University of Nebraska Lincoln and in communications from the University of Denver. She can be reached via e-mail at lhanson@galvanizeit.org.

Control the content you see on ConstructionCanada.net!
Learn More.