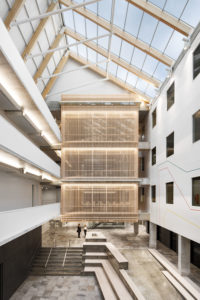 Winner of the 2019 Grands Prix du Design award, the expansion of the headquarters of the Confédération des syndicats nationaux (CSN) in Montréal has improved the quality of life of building occupants. Designed by a consortium including BGLA and NEUF architect(e)s, this project has also earned the Leadership in Energy and Environmental Design (LEED) Silver certification.
Located in the Ville-Marie district, CSN's head office is a brutalist building from the early 1980s. The owner wanted to get rid of its heavy and severe look. This image has now been transformed through a redevelopment and an expansion amplifying the esthetics of the building and its impact on the neighbourhood, while preserving its essence and identity.
The expansion project is designed to enhance the architectural and social landscape of the area. A large volume of colour develops in continuity with the existing building, but now more freely, expressing diversity, complementarity, and unity. A new garden completes the development of the site and offers visitors a real area of relaxation and exchange.
At the heart of the architectural concept is the symbiosis of two volumes—one of wood and the other of steel—blending harmoniously in an atrium bathed in natural light. The offices are located at the perimeter of the enlarged volume and around the atrium. The meeting rooms, cafeteria, bookshop, and library are either on the ground floor or on the garden level. The 'circular' floorplan offers great flexibility, thereby allowing the growth or decline of the different federations over the years.
Wood, concrete, and steel were used to express the know-how of local and regional industries, represented by CSN unions. The atrium was designed to highlight these raw materials. Wood is the predominant element of this project and was employed in the atrium, cafeteria, and multifunctional rooms. Combined with concrete and steel, finely worked wood enhances the esthetics of the collective spaces. The different types of wood chosen for the project come from local and regional industries represented by the confederation's trade unions. Maple was the main type of wood used in various ornamental applications for its colour, strength, and identity.