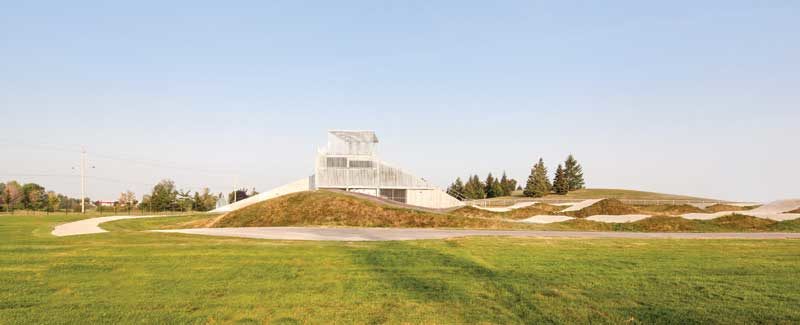 By Mike Dawson
Whenever a city wins a bid for a major international sporting event, there is a surge in construction activity—some to complete projects previously approved (e.g. infrastructure improvements) and some to construct new venues specific to the needs of the games. Either way, there is inevitably a crunch on resources and a scramble to meet fixed deadlines. Such was the case when the City of Toronto was selected to host the 2015 Pan Am & Parapan Am Games in 2009.
There is also typically a debate about the future need for the facilities constructed and the value of the investment. Planning of any new venues therefore requires foresight and quality construction to ensure long-term sustainability of the facilities.
Among the numerous new construction sites was the BMX Supercross Track Legacy Project in Etobicoke's Centennial Park. The project faced both challenges—incredibly short construction timelines, as well as ensuring the finished product would be in demand for future events beyond the Pan Am Games.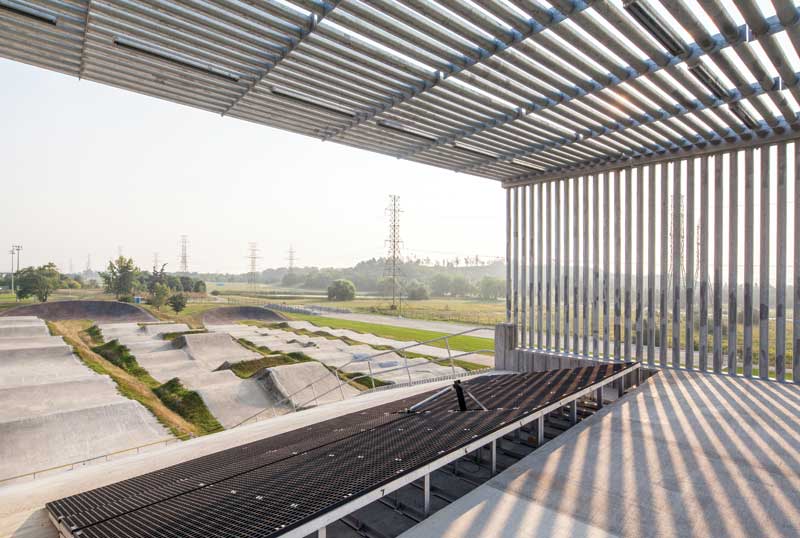 Work for the site began in 2013, after the city issued a Request for Proposals (RFP) in consultation with the TO 2015 organizers. In the evaluation process, Kleinfeldt Mychajlowycz Architects' proposal was selected, together with their track designer Elite Trax as the successful proponent to design this venue. Other partners in the construction of this venue include Halsall Associates (structural design), EMC Group Ltd. (subgrade services and water management), and Smith + Andersen (electrical).
This author is a project manager with Gateman-Milloy, a firm with BMX track building experience that was awarded the construction work on the facility in August 2014. A firm completion date of May 2015 was established in order for the City of Toronto to host the June 2015 Canada Cup BMX Olympic Qualifying Series—an important event in its own right, but also serving as a test before the Pan Am Games. This meant there was no time to waste.
Emerging sports require dedicated venues
BMX Supercross racing became an Olympic medal sport for the 2008 Beijing summer games under the IOC-recognized Union Cycliste Internationale (UCI). It is a type of off-road bicycle racing derived from motocross racing. Races are held on purpose-built, off-road, single-lap tracks that usually consist of a starting gate, a groomed serpentine dirt race course made with jumps of various sizes, large banked corners for riders to maintain speed, rollers, and a finish line.
Toronto's BMX Supercross Track Legacy Project was constructed for the  Pan Am Games, but was meant to endure far longer—it is already building its reputation as the premier professional BMX course in the world. The closed-loop track covering 2.55 ha (6.3 acres) of Centennial Park in Etobicoke is among a handful of tracks in Canada to be designed and constructed to UCI standards.
The venue features 517 m (1696 ft) of track, four straightaways, and a trio of sharply banked turns. An iconic cast-in-place (CIP) concrete ramp structure finished with steel pipe screens and lit canopies dominates the park's skyline. All walls were constructed of board-form finished concrete. The structure comprises an 8-m (26-ft) high suspended slab ramp and 5-m (16-ft) high ramp, for elite and amateur riders respectively. Both feature state-of-the-art pneumatically operated starting gates. Below the elite ramp is lit indoor and outdoor storage for the entire park. The indoor storage is finished with glazed masonry block. The track is constructed of selected earth, capped with limestone screenings and polymer-based soil stabilizer.

Control the content you see on ConstructionCanada.net!
Learn More.