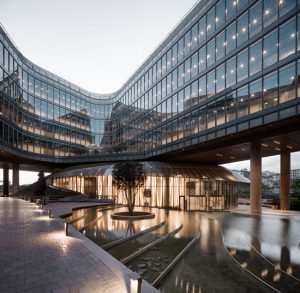 ERA Architects has transformed an old industrial chemical factory land in Istanbul, Turkey, into a technology campus for a Turkish bank.
Inspired by the topography around the site and to create a contrast to the surroundings' unorganized urban fabric, a crystal volume was created to serve as the main working environment. The building lies over several artificial hills.
The 51,000-m2 (548,959-sf) campus site includes open offices, an auditorium, educational spaces and cafeterias, parking, a Tier 4 data centre, a sport centre, common spaces, archives, and service areas.
The horizontal floating volume connects the two plots of the site by hanged bridges and glazed screen walls over 30-m (98-ft) spans. The buildings' main structure is a flat slab concrete system at the offices and exposed frame structure at the lower levels. Along the outer skin, office spaces have been freed out of columns by 4.5 to 11 m (14 to 36 ft) deep cantilevers. The widest cantilevering areas are supported by large composite beams on the roof.
The accessibility to the office spaces has been organized through a set of elevated open courtyards. The transparency is used to integrate the working spaces with the city.
The outdoor ground levels follow a path which undulates like a creek between the artificial hills as with the ground outdoor levels. Ponds are designed to enhance the cooling effect on the outdoors as well as on the glazed façades to reduce the temperature gain during hot seasons.
The building implements single and double skin façade systems with sun shading integrated with lighting, and special heating and cooling systems provide the inner spaces with fresh air. The façades have been designed as unitized systems allowing heat and acoustic insulation as the site is surrounded by highways with heavy traffic.
The campus has received Leadership in Energy and Environmental Design (LEED) Gold certification.