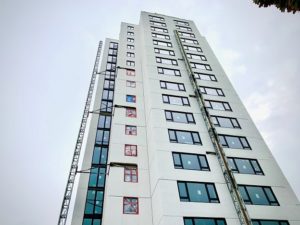 ERA Architects will complete the rehabilitation of the Ken Soble Tower, a post-war apartment tower in Hamilton.
The rehabilitation project will change the 7432-m2 (80,000-sf) tower to a Passive House standard—reducing greenhouse gases emissions by 94 per cent and laying the groundwork for industry-wide, ultra-low energy retrofits needed to maintain thousands of apartments across Canada.
"Ultra-low energy retrofits that maintain affordability are not only possible, but critical to preserving and enhancing housing across the country," said Graeme Stewart, principal of ERA Architects.
The building's rehabilitation will modernize 146 units of affordable seniors' housing, while reinvigorating community spaces and outdoor gathering areas, planning for aging-in-place and barrier-free living, and a changing climate.
The building demonstrates passive resilience to extreme conditions: In case of failure of active systems, the building will stay warm in winter for up to two days (compared to two hours in a typical building) and below dangerous heat levels in summer for up to four days (compared to half a day in a typical building).
More than 20 per cent of units will be barrier-free. All common areas, outdoor gathering spaces, and circulation routes will be accessible and designed for aging in place.
Slated for completion this year, the project will provide residents with improved comfort and control of their indoor environments and with the ability to withstand extreme climate events into the future.
Built in 1967, the Ken Soble Tower is the oldest high-rise multi-residential building in CityHousing Hamilton's portfolio and has been in decline for several years. After considering several options, including sale, rebuild, capital repair, and rehabilitation, CityHousing opted to retrofit the building, making significant improvements at a fraction of the cost of new build.