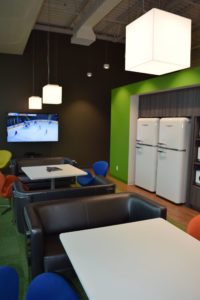 Despite the crucial role they play in maintaining worker productivity, office break rooms can often go unused or underused due to poor design choices. It is thus important to consider what factors will maximize break room comfort and usability. Engineering company Stantec's regional office in Waterloo, Ont., demonstrates effective incorporation of several of these factors.
One of the cheapest ways to enhance a break room's functionality is to use calming paint colours. This helps differentiate the room from the rest of the office, which in turn makes it easier for employees to become energized, as they feel they have moved to a new, more relaxing space.
Colour can animate the atmosphere of a room and stimulate its occupants, as can the use of natural light (rather than fluorescents). Stantec Waterloo's break room features walls painted green—a hue that colour psychologist Judy Scott-Kemmis says symbolizes renewal and vitality.
It is also important to consider the functionality of the break room kitchen, particularly in offices with few restaurant options nearby. Enough appliances should be provided to reasonably serve all employees and minimize conflict. For example, offices with large numbers of employees should consider providing multiple microwaves and refrigerators, as these are very frequently used. Stantec Waterloo, for instance, accommodates its 330 employees by providing five microwaves, four refrigerators, and two dishwashers.
However, a good break room does not only provide space for eating and making food. It must also feature an area where employees can actually take a break. This generally comes in the form of tables where employees can sit and eat, engage with one another, or even lay out materials to work on. Providing such an area is crucial not only for employee relaxation, but also for team-building and problem-solving purposes. The break area also often includes a television, which can entertain employees and provide a connection to the world outside the office.
Stantec's Waterloo office was designed with these qualities in mind as well, dividing the café-style break room into a variety of seating 'vignettes' where employees can interact. This has also met with strong success—employees utilize all areas of the break room, and have provided positive feedback on its design.
Despite the break room's apparent 'distance' from work—a factor necessary for the room to be effective—providing employees with a space in which they can relax is key to office productivity.