Last month, Engineers Canada celebrated the achievements of eight Canadian engineers with its annual awards. Recognizing excellence in engineers, teams, projects, and students, the awards have been presented since 1972.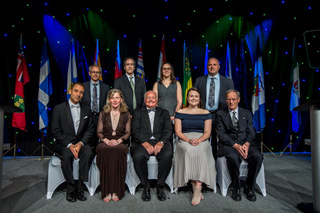 "As we celebrate Canada's 150th anniversary, we reflect upon the diverse work professional engineers have contributed to every sector of Canadian society," said Stephanie Price, P.Eng., CAE, Engineers Canada's interim CEO. "Engineers have helped create and build Canada to what it is today; whether it's transportation, natural resources, infrastructure, environment or technology, engineers have played a significant role."
Awards were presented to:
Larry E. Seeley, PhD, P.Eng., Seeley Group's chair and CEO, earning the Gold Medal for achievements including contributions to Canada's mining and metallurgical industry;
Mary A. Wells, PhD, P.Eng., University of Waterloo's Associate Dean, outreach, with the Faculty of Engineering, earning an award for Support of Women in the Engineering Profession for her stance as a role model and leader;
Veronica Knott, an undergraduate student of engineering at the University of British Columbia (UBC), earning the title of 2017 Gold Medal Student for her leadership in diversity efforts;
Amy M. Bilton, PhD, P.Eng., earning the Young Engineer Achievement Award for her innovative and globally focused approach to educating students at the University of Toronto Faculty of Applied Science and Engineering;
G. Ross Peters, PhD, FCAE, FEC, P.Eng., a professor emeritus and former dean of Memorial University Faculty of Engineering and Applied Science, earning a Meritorious Service Award for Professional Service for his work promoting engineering education both in Canada and globally;
Eduardo (Ted) Maulucci, P.Eng., president of SmartONE Solutions, earning a Meritorious Service Award for Community Service for efforts to mentor engineering students, fund education, and assist entrepreneurs;
Jonathan F. Holzman, PhD, P.Eng., Associate Professor at UBC's Okanagan campus, earning a Medal for Distinction in Engineering Education for his creative, hands-on, and technologically based approach to teaching; and
FLIR Systems' engineering team, earning the National Award for an Engineering Project for their work developing a radar technology for automatic surveillance, which should cover greater ground than cameras with fewer limitations.
"Looking forward to Canada's next sesquicentennial, we believe engineers will continue to be at the centre of innovation, driving the economy, creating solutions for some of society's most pressing challenges, and improving the quality of life for Canadians," said Price.