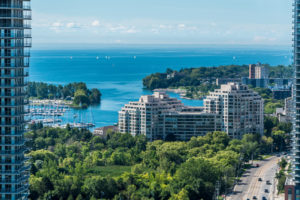 The Energy Star certification is now available for Ontario's new mid- and high-rise residential buildings. In collaboration with EnerQuality and the home building industry, the Energy Star Multifamily High-Rise (New Construction) Pilot Program will help developers adopt energy-efficient practices when constructing new mid- and high-rise buildings in the province.
The five-year pilot program will recognize buildings that are 15 per cent more energy-efficient than those built to the provincial building code, along with other program requirements.
For builders and owners, certification means lower operating costs, increased rental value and occupancy rates, and greater engagement with clients and communities. For homeowners and tenants, it means superior energy performance and lower energy costs.
"This program will not only reduce pollution and consumers' energy bills, but also create construction, consulting, and design jobs and stimulate innovation in the housing sector," said Amarjeet Sohi, the federal natural resources minister.
Since 2005, EnerQuality along with the building industry and Natural Resources Canada (NRCan) has certified more than 88,000 Energy Star homes.
"After 13 years, the highly successful Energy Star for New Homes program has helped the building industry to adopt energy efficiency. It is only right consumers should benefit from Energy Star regardless of whether they buy a single- or multi-family home," said Corey McBurney, president of EnerQuality.