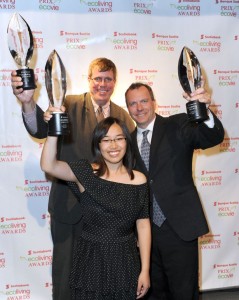 The Scotiabank EcoLiving Awards handed out $75,000 to a Winnipeg retrofit company, an East Coast homebuilder, and a Calgary engineering student studying in the United States.
Scotiabank's Business Leadership Award (i.e. $50,000) was awarded to Winnipeg's BUILD for its non-profit program of retrofitting homes in low-income areas of the province with energy saving materials, resulting in lower utility bills, employment of neighbourhood members, and decreased greenhouse gas (GHG) emissions.
"Winning a Scotiabank EcoLiving Award validates the work we do through BUILD and underscores the importance of creating energy efficient homes for Canadians," said Shaun Loney, BUILD president.
The Scotiabank EcoLiving Innovators Award (i.e. $15,000) went to EcoPlusHome of Bathurst, N.B., a company that designed and built what is being billed as Atlantic Canada's most energy-efficient home—a prefabricated family home that puts zero demand on the power grid.
Calgary's Eden Full, a mechanical engineering student at Princeton University, took home the Student Leadership Award (i.e. $10,000). She invented the SunSaluter, a $10 tracking rotation system that maximizes the output of solar panels, requiring 40 per cent fewer panels.
The program is designed to help Canadians discover how they can make greener choices for their homes, reduce their energy bills, and take advantage of government rebates. A key criterion for award recipients, which were announced during Canadian Environment Week, was to demonstrate capacity to generate public interest and excitement in energy efficiency through their products or solutions.