Edmonton's Roxy Theatre is being reborn
by sadia_badhon | January 23, 2019 3:06 pm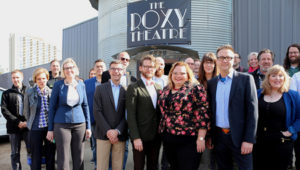 The City of Edmonton [2] will provide $2.5 million to the Theatre Network[3] to help support construction of a new facility to replace the original Roxy Theatre, destroyed by fire in 2015.
"The Roxy exuded history in all of its creaks, crannies, and character," said Sarah Hoffman, deputy premier of Alberta. "The fire was devastating, but it brought out the resiliency of Edmonton's theatre community. This new theatre will be a fitting encore, adding to the character of our flourishing 124th Street neighbourhood."
The new facility, to be located on the site of the original theatre, will include three performance spaces and integrated backstage and front-of-house areas. In a nod to the past, the design of the building entry will help recreate the historic character of the Roxy Theatre marquee.
Ground breaking is expected in spring, and is slated to open in time for the 2020 theatre season.
Endnotes:
[Image]: https://www.constructioncanada.net/wp-content/uploads/2019/01/Opener-18.jpg
City of Edmonton : https://www.alberta.ca/index.aspx
Theatre Network: https://theatrenetwork.ca/
Source URL: https://www.constructioncanada.net/edmontons-roxy-theatre-is-being-reborn/
---