Edmonton's new software tool assists with energy-saving properties
by brittney_cutler_2 | November 9, 2021 9:23 am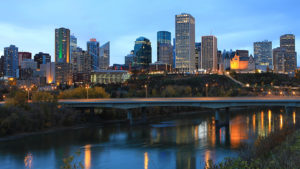 Alberta's capital city will soon adopt a new software tool designed to help it deliver on a key pillar of its energy transition strategy.
The tool, called GRID and developed by OPEN Technologies, will give the city of Edmonton a neighbourhood-scale view of the energy and climate performance of the buildings registered in its voluntary building energy benchmarking program. Participating property owners and managers will access GRID to receive tailored insights on how to save energy and money while lowering their properties' greenhouse gas (GHG) emissions.
Posterity Group, a Canadian energy transition consulting firm, set up the city of Edmonton's voluntary benchmarking program in 2017, and has managed it on the city's behalf ever since. Owners and managers of 425 buildings now participate in the program. Those properties account for nearly 30 per cent of all GHG emissions from Edmonton's commercial and institutional buildings. Posterity Group is now deploying the GRID platform to help the city streamline the participant recruitment and data publication processes in preparation for continued program growth in future years.
Building owners and managers will have ready access to data visualizations showing how their properties rank on energy and carbon performance relative to similar building types elsewhere in the city. GRID will also help owners make more informed equipment upgrade investments via its building performance scorecard feature.
Under its Community Energy Transition Strategy and Action Plan, the city of Edmonton has set a goal to deeply retrofit more than 350,000 residential buildings by mid-century.
Posterity Group will be validating the data starting in September, and GRID should be fully integrated with its program by May 2022.
Endnotes:
[Image]: https://www.constructioncanada.net/wp-content/uploads/2021/11/BC_GRID.jpg
Source URL: https://www.constructioncanada.net/edmontons-new-software-tool-assists-with-energy-saving-properties/
---