Edmonton Tower breaks the ICE in new district
by carly_midgley | August 21, 2017 1:14 pm
By Ben Aitchison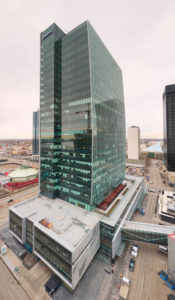 Earlier this year, ICE District[2] officially opened Edmonton Tower[3] for business, making it the first of several planned towers in the entertainment district to open its doors to the public. The building, which opened in February, features 30 storeys (27 of which are occupiable), clocking in at 130 m (426 ft). It is targeting Gold under the Leadership in Energy and Environmental Design (LEED) program, and features state-of-the-art office space, retail, and dining options, all conveniently located in the heart of downtown Edmonton.
Edmonton Tower is a modern, Class AAA office building that not only features world-class sustainability systems, but is also designed to be both architecturally progressive and highly functional. To the west, it will be connected to the forthcoming JW Marriott Edmonton, which will link it directly to Rogers Place[4], home of the Edmonton Oilers. An above-ground walkway joins it to Bell Tower[5] on the south, providing indoor access to the rest of the downtown pedestrian system.
The building was developed by ICE District Joint Venture, a partnership between Katz Group and ONE Properties. Stantec[6] was the architect for the project, and PCL[7] led construction efforts. The City of Edmonton[8] is the primary tenant of Edmonton Tower, and began transitioning the majority of its staff there in the fall of 2016. On the building's second floor, the city has opened its Edmonton Service Centre, providing city residents with central access to licensing, ticketing, and other municipal services.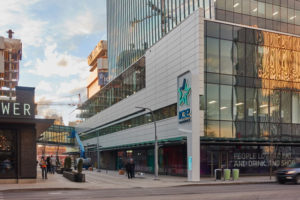 The tower is a steel structure with a concrete core and a total area of 66,575 m2 (716,604 sf). Of this, 50,948 m2 (548,405 sf) is office space, with retail comprising a large portion of the remainder. Office floors boast column-free plates averaging approximately 2137 m2 (23,000 sf) of rentable space, with extended ceiling heights between 2.7 and 3.3 m (9 and 11 ft). Office floors also feature 2.5-m (8-ft) clear vision glass to maximize natural light, and decorative metal cladding on the podium to highlight the customized artistic graphics.
"The opening of Edmonton Tower is a significant milestone for ICE District, as the project continues its revitalization of downtown Edmonton," said Glen Scott, senior vice president of real estate with Katz Group[10]. "We have been encouraged and humbled by the support shown by the people of Edmonton for ICE District and look forward to its continued contribution to the city's growth."
In addition to City of Edmonton employees, Edmonton Tower is already home to Kids & Company, and is the future home of RBC Dominion Securities and Sorrell Financial. The first floor will feature a RBC banking centre targeting a fall 2017 opening. Gateway Newstands, also on the first floor, and Tim Hortons, on the second floor, are both planning to open in summer 2017. The tower is roughly 80 per cent leased at the time of this writing.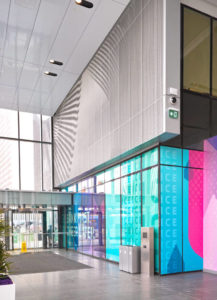 A striking feature of Edmonton Tower is the light-emitting diode (LED) display on the top four floors of the building. This was added as a signature lighting effect, representing the Northern Lights. The display's implementation and ongoing use is still being determined, but is assured to add a vibrant touch to the building. Further exterior features include an eye-catching architectural design incorporating a curved external glazed envelope at both the north and south elevations.
Meticulous attention was paid to the extended lobby, which stages a grand entrance to the building and greets guests with extensive use of marble, stone, and glass for a modern, visually pleasing esthetic. Below-grade parking offers 500 stalls, or approximately one stall per 111 m2 (1200 sf) of rentable space.
ICE District will soon feature a vibrant public plaza, condominiums, retail, restaurants, and nightlife. It will also serve as a location for the 2018 CSC annual conference next May.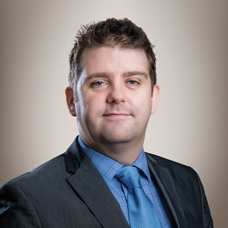 [12]Ben Aitchison is an experienced project manager with a 10-year superintendent background, technical training (including a degree in construction management, Gold Seal Accreditation [GSC], National Construction Safety Officer [NCSO] accreditation, full Construction Skills Certification Scheme [CSCS], and Construction Safety Training System [CSTS]), and 16 years of full-time industry experience in the United Kingdom and Canada. He specializes in large-scale commercial projects, with primary skills including project/site management, negotiation and co-ordination, construction logistics, preconstruction planning, project administration, safety and quality control, environmental measures, production control techniques, and lean construction methodology. Aitchison can be reached via e-mail at baitchison@oneproperties.com.
Endnotes:
[Image]: https://www.constructioncanada.net/wp-content/uploads/2017/08/file1.jpg
ICE District: http://icedistrict.com/
Edmonton Tower: http://icedistrictproperties.com/offices/edmonton-tower/
Rogers Place: http://www.rogersplace.com/
Bell Tower: http://aspenproperties.ca/properties/edmonton/bell-tower/
Stantec: http://www.stantec.com/
PCL: http://www.pcl.com/Pages/default.aspx
City of Edmonton: https://www.edmonton.ca/
[Image]: https://www.constructioncanada.net/wp-content/uploads/2017/08/file2.jpg
Katz Group: http://www.katzgroup.ca/
[Image]: https://www.constructioncanada.net/wp-content/uploads/2017/08/file4.jpg
[Image]: https://www.constructioncanada.net/wp-content/uploads/2017/08/Ben-Aitchison-web.jpg
Source URL: https://www.constructioncanada.net/edmonton-tower-breaks-the-ice-in-new-district/
---