Edmonton precast project releases environmental data
September 26, 2014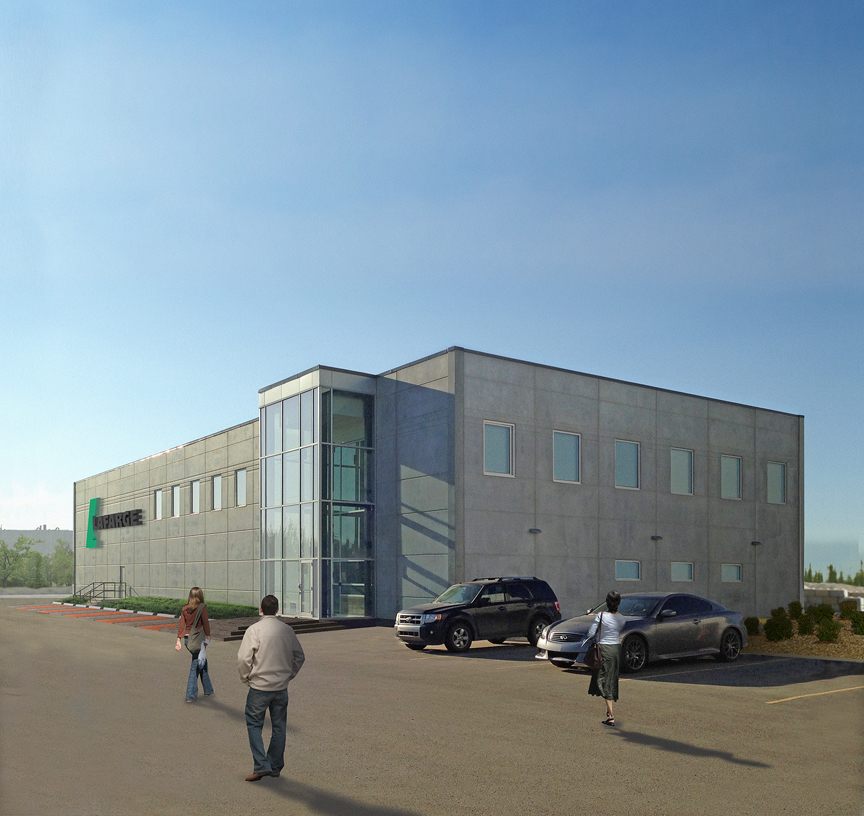 By Daniel Clayton, PhD
The Athena Sustainable Materials Institute has evaluated the building footprint of the Lafarge Innovation Hub using lifecycle assessments (LCAs) and an Environmental Building Declaration (EBD)—a document stating the environmental footprint data of a building, similar to the nutrition label on food packaging.
The Innovation Hub is constructed of precast concrete, providing a highly efficient building envelope. The locally produced sandwich panels eliminate thermal bridges and, when combined with an intelligent building management system, deliver strong energy performance. Erected on an existing Lafarge site, the facility is a two-level structure, housing a 489-m2 (5266-sf) meeting venue and 921.5 m2 (9920 sf) of state-of-the-art building materials laboratories.
The ground-floor laboratories benefit from radiant in-floor heating. Combining this with a south-facing design keeps the materials and 10 full-time staff bathed in natural light even during an Edmonton winter.
The Hub is a showplace for other sustainable materials, such as concrete floors incorporating reflective white pigment and concrete walls to engage thermal mass. The polished concrete floors have low maintenance needs and eliminate the requirement for floorcoverings or paint, decreasing volatile organic compounds (VOCs) for a healthier work environment.
Another feature of a precast concrete building—like the Innovation Hub—is it contains open architecture with long clear spans, allowing the building to be repurposed or even disassembled and reassembled at another location. The durable concrete building will be in service long after its design life of 75 years as the concrete can be crushed and reused if needed.
The Hub was built on a current industrial site requiring no further development. Industrial water and rain runoff are managed across the site via a reclamation system. Decorative concrete solutions have been employed externally at the building entrance and parking area, making the building more welcoming.
Well beyond the laboratory function, the building is slated for use as a construction community hub by post-secondary students as well as associations and local project teams. Brainstorming about material applications for building and infrastructure construction can take place on the second floor of the facility, while ideas can be tested out in the lab by running trial concrete mixes or evaluating the strength of freeze thaw durability of samples.
LCAs measure the environmental footprint of products and buildings, and can be seen as a mechanism to keep organizations and manufacturers accountable.

[2]Daniel Clayton holds a PhD in materials technology and is registered as a Professional Engineer in Alberta. He started his career with Lafarge in the United Kingdom in 2000 as a researcher in cement and concrete and has worked for the roofing and concrete product lines around the world. Before transferring to Lafarge Canada in 2012, Clayton worked for Lafarge Group in Paris, France implementing quality and production systems into Middle East and Africa. He can be contacted by e-mail at daniel.clayton@lafarge.com[3].
Endnotes:
[Image]: http://www.constructioncanada.net/wp-content/uploads/2014/09/Edmonton1.jpg
[Image]: http://www.constructioncanada.net/wp-content/uploads/2014/09/headshot1.jpg
daniel.clayton@lafarge.com: mailto://daniel.clayton@lafarge.com
Source URL: https://www.constructioncanada.net/edmonton-precast-project-releases-environmental-data-3/
---