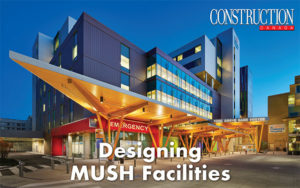 The magazine's latest e-book focuses on some of the factors design professionals need to consider when working on municipal, university, school, and hospital (MUSH) building projects.
Construction Canada has announced the newest volume in its series of free, downloadable digital supplements—a technical exploration of building materials that are well-suited for MUSH projects.
The curated collection of articles also explores the importance of acoustically balanced spaces and new materials available in the commercial ceiling space to reduce excessive noise and sound reverberation.
The use of advanced doors and grilles to safeguard building occupants from extreme weather events, restrict the spread of toxic smoke in multilevel facilities, and construct safer parking structures is discussed as well.
This Construction Canada e-book on institutional architecture illustrates how the architectural team for the Teck Acute Care Centre at B.C. Children's Hospital in Vancouver went beyond code requirements to create a model of resilient design and ensure the facility remains operational during natural disasters.
Download the "Designing MUSH Facilities" in two different formats—pdf or digital edition—by visiting www.constructioncanada.net/ebook/designing-mush-facilities-de.