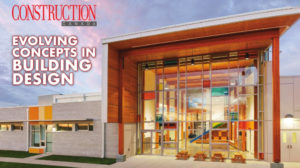 The magazine's latest digital supplement continues our focus on the various factors design professionals need to consider when working on municipal, university, school, and hospital (MUSH) building projects.
Construction Canada has announced the newest volume in its series of free, downloadable digital supplements on MUSH. "Evolving Concepts in Building Design" explores thermal and moisture protection of building envelopes and the design of security systems for MUSH facilities.
The curated collection of articles also analyzes the role of building information modelling (BIM) software in the design of surveillance systems.
Additionally, it discusses the benefits of fabric buildings for schools and universities who need space options for year round activities.
Click here to download the "Evolving Concepts in Building Design" digital supplement.