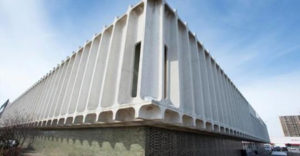 Earlier this month, the Kitchener, Ont., city council voted seven-three against protecting the distinctive concrete façade of a former Sears building with a heritage designation. The 53-year-old building was built in the Kennedy-era international style.
The Kitchener's heritage committee had earlier called for the building to be protected with a heritage designation. Designation would prevent alterations to the building's heritage elements and demolition without council approval.
The former Sears building, with its distinctive ribbed, precast concrete, was built in 1965 as an anchor store for the Fairview Park Mall. Building owner Cadillac Fairview wants to demolish the façade and part of the building in a major redevelopment of the mall. Finley McEwen, Cadillac Fairview's senior vice-president of development, urged the council to not designate the building.
The heritage designation "would essentially render the property undevelopable," McEwen told the Waterloo Region Record. "It would essentially tie our hand and prevent a one-in-50-year redevelopment opportunity from progressing."
He said the current building has a number of problems such as the lack of windows that makes it an undesirable office space. The precast concrete does not insulate well, and the caulking contains toxins, he said. "The Sears building is not functional in its current form. It has not stood the test of time," added McEwen.