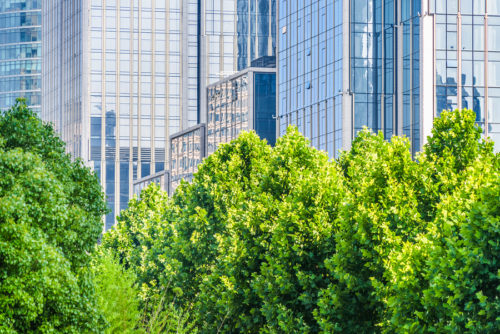 For those with an interest in sustainable design and construction, the 2017 Green Building Festival—coming to the Toronto Marriott Downtown Eaton Centre for October 5—may be the ideal event. With the theme of "Form Follows Nature: Building a Net-positive Environment," the conference will focus on such topics as conserving energy, air, and water, minimizing carbon production, retrofitting homes to net-zero, finding innovative housing solutions, and new project delivery methods.
Presented by Sustainable Buildings Canada (SBC), the festival offers opportunities to earn continuing education credits and features a number of presentations. Two notable speakers include Russell Acton, AIBC, AAA, SAA, OAA, FRAIC, principal at Acton Ostry Architects Inc., and Kevin Flanagan, MRAIC, AIA, partner at PLP Architecture.
Acton will be discussing the University of British Columbia (UBC) residence Brock Commons—which, at 18 storeys, will be the tallest mass-wood building in the world on its completion—and how it can provide guidance for future projects. (This project is also featured in the June 2017 issue of Construction Canada.) Flanagan's talk will focus on two innovative 'green' projects (the Edge, a 'smart' office building in the Netherlands, and the Oakwood, which would be London, England's first wooden skyscraper).
The event will also include time for attendees to network, such as at a cocktail reception from 5 to 7 p.m. Registration for the festival is now open online.