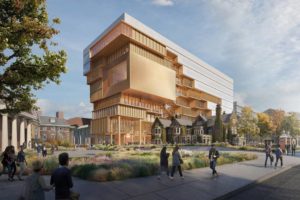 A proposed new University of Toronto (U of T) building in downtown Toronto will bring together academic and public spaces to create a hub for urban and cultural engagement.
The nine-storey building will be designed by Diller Scofidio + Renfro along with Toronto's architectsAlliance. ERA Architects is serving as the team's heritage consultants.
It gives the School of Cities a permanent home for its urban-focused research, educational, and outreach initiatives. The building will also house a number of academic units from the arts, science, law, and music streams. Space will also be designated for classrooms and public spaces, as well as for the Royal Ontario Museum (ROM).
Among the building's showpieces is a music recital hall, with a large window serving as a backdrop to the stage and providing the audience with south-facing views of the Toronto skyline. Above the hall will be a 400-seat event space. There will also be a café on the ground floor and a multi-storey atrium leading up to the recital hall.
The building will also honour U of T's history and heritage, carefully incorporating the 118-year-old Falconer Hall, part of the Faculty of Law, into its design.
Charles Renfro, partner-in-charge at Diller Scofidio + Renfro, says the building is designed to encourage individual scholarship, while fostering collaborative discourse and public engagement.
"This 'campus within a campus' is revealed in the building's dual identity—a smooth, cohesive block of faculty offices and workspaces gives way to a variegated expression of individual departments as the building is sculpted around Falconer Hall, the historic home of the law department. Several public programs are revealed in the process. At the heart of the building is a dynamic central atrium and stairs linking all floors with clusters of lounge spaces, study spaces and meeting rooms, mixing the various populations of the building with each other and the general public," he says.
The new U of T landmark will be built on the site of the McLaughlin Planetarium, which was closed in 1995. The university's department of astronomy and astrophysics has included a state-of-the-art planetarium theatre in its plans for a new building.