Different projects, similarly sustainable results
by mdoyle | June 4, 2013 11:08 am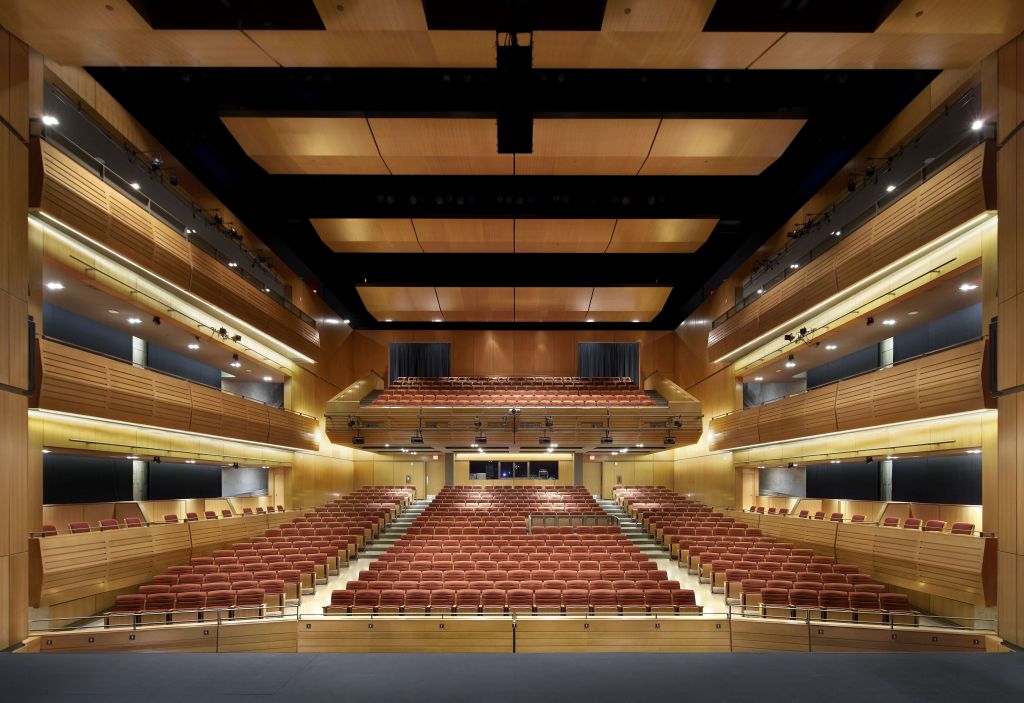 Two distinct Canadian cultural facilities have both been certified Gold under the Leadership in Energy and Environmental Design (LEED) program.
Designed by Diamond Schmitt Architects, the Burlington Performing Arts Centre (Ontario) and the Kinnear Centre for Creativity and Innovation (Alberta) find common ground in ways they incorporate green design elements not normally associated with these types of facilities.
The 5852-m2 (63,000-sf) Burlington Performing Arts Centre, employs extensive daylighting and thermal and lighting controls to reduce energy consumption by approximately 47 per cent, relative to the Model National Energy Code for Buildings (MNECB). Opened in late 2011, the LEED Gold-certified centre includes:
five-storey, wood-lined main theatre with seating for 730;
260-seat studio;
six-storey fly tower; and
two-storey public lobby with a glass roof.
The main theatre includes a cantilevered balcony design that creates additional acoustical volume during performances.
The facility was built on the site of a former police station. During the excavation process, hydrocarbon-contaminated soils were found. A water-remediation system—the first of its kind implemented underground in North America—was installed to prevent the movement of volatile organic compounds (VOCs) into the city's water supply.
In total, 90 per cent of construction waste was diverted from landfills and 19 per cent of materials used contained recycled content. Additionally, 50 per cent of wood products were Forest Stewardship Council (FSC)-certified, meaning they originated in responsibly managed forest areas.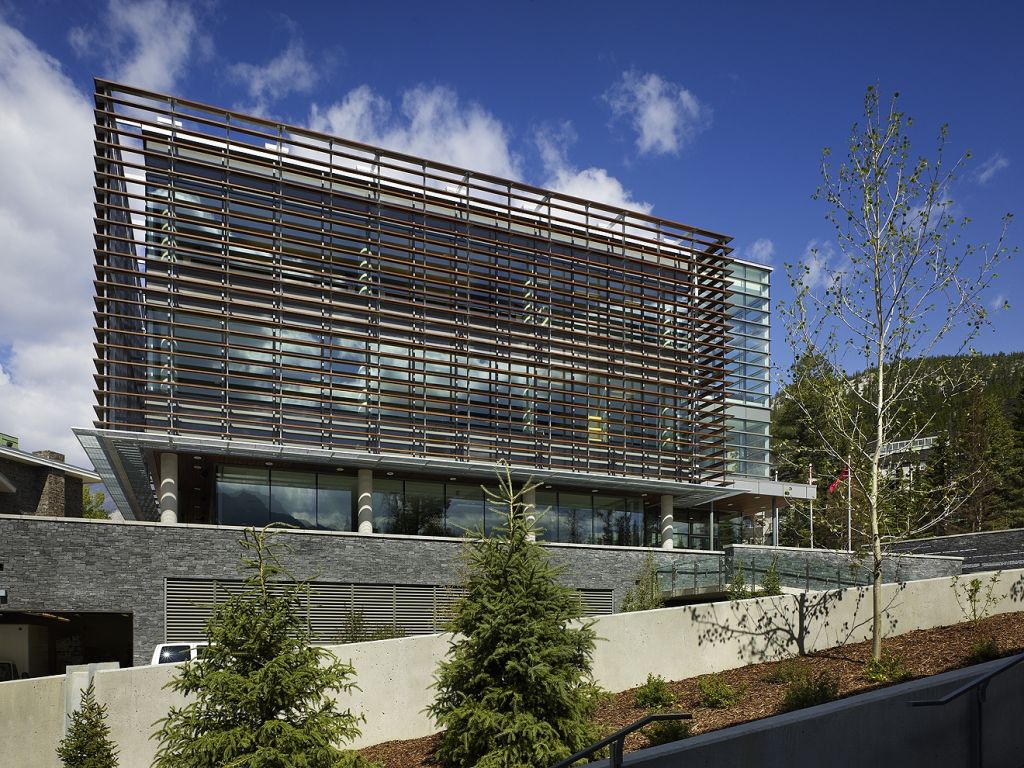 The second facility, the Kinnear Centre for Creativity and Innovation is part of the larger Banff Centre, located in its namesake national park. The multipurpose, three-storey 5574-m2 (60,000-sf) structure houses learning and meeting space, as well as performance and gallery areas.
Opened in 2010, the space was part of the centre's $100-million revitalization project.
Similar to the Burlington Performing Arts Centre, 78 per cent of the wood materials used in its construction were FSC-certified; further, an overall energy cost saving of 37 per cent, relative to MNECB, was achieved. Attributing to these cost savings are:
efficient exterior building envelope;
inclusion of windows for views and daylighting in all occupied space;
sun-shading technologies; and
stormwater management system.
"Whether designing a building to rejuvenate Burlington's downtown or adding to the extraordinary campus of the Banff Centre, these two projects share a respect for their settings and provide features that enhance their program," said Jack Diamond, the firm's principal. "That both have achieved LEED Gold certification is testament to our commitment to advancing sustainable design for building types not typically associated with high green standards."
Endnotes:
[Image]: http://www.constructioncanada.net/wp-content/uploads/2014/06/Burlington-Performing-Arts-Centre-Main-Theatre.jpg
[Image]: http://www.constructioncanada.net/wp-content/uploads/2014/06/Kinnear-Centre-exterior.jpg
Source URL: https://www.constructioncanada.net/different-projects-similarly-sustainable-results/
---