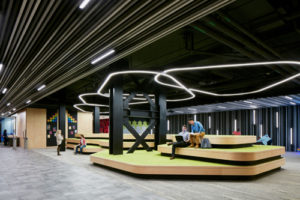 Campus1 Montréal has opened across the street from McGill University. Designed by Diamond Schmitt Architects, the former hotel has been transformed to support student residence and learning environments with a range of amenities and fully furnished suites.
"The adaptive reuse of this 19-storey concrete structure is designed for a sense of community and social engagement," said Gary Watson, project architect with Diamond Schmitt.
The spacious entry features a seating niche defined by bold colour patterns and a linear ceiling treatment drawing students into the space. Two main routes encourage interaction among students with casual areas interspersed with active space and study areas. A multi-tiered gathering space pulls the entire ground floor together and takes inspiration from Mount Royal, which rises above the downtown campus.
"In this way, the design integrates programmed and unprogrammed space, which allows students to make the residence their own," said Bryan Chartier, director of interior design at Diamond Schmitt.
In addition to a collaborative media module, study room, and classroom, the main floor also has a café and games room. Recreational amenities on the second floor include a basketball court, weight and cardio room, and yoga studio.
Each floor is marked with strong graphics at the elevator banks and has a variety of bedroom configurations. Common use amenities differ from floor to floor to encourage inter-floor socialization and include study and classrooms, movie theatres, games and meditation rooms, and common kitchens and lounges.