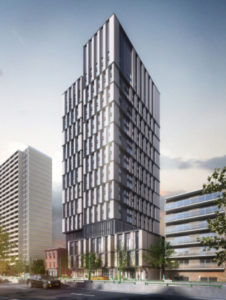 A new student residence for the University of Toronto's (U of T's) downtown St. George campus has reached a development milestone. U of T said an agreement with the city and local community groups has been struck for the 23-storey building at the corner of Spadina and Sussex Avenues.
Designed by Diamond Schmitt Architects, the residence addresses a need for more student accommodation while providing community amenities as part of the design. A three-storey heritage building will be incorporated into the façade and a public green space will be added to the site.
The slender brick-clad tower will house 511 students in a bright, airy structure that mixes modern residence spaces with lively retail storefronts.
"We wanted to find the place where U of T's obligation to students overlaps with the broader community's interests so it is a successful project in both the university and public realms," said Scott Maybury, U of T's vice-president of university operations.
Student common areas include study space, a music practice room, fitness studio, and project room on the mezzanine level. Two dining halls and a multipurpose event space will occupy the second floor. The adjacent Robert Street Field, used by U of T's Faculty of Kinesiology and Physical Education, will be rejuvenated for community and school use.
The Spadina-Sussex Residence is a partnership between U of T and developer The Daniels Corporation. The university's plan is to create housing on the main downtown campus for 2300 additional students by 2020.