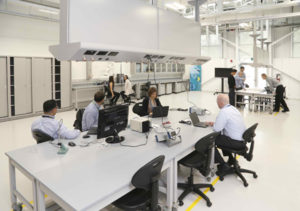 A new facility designed for automotive and manufacturing innovation has opened at the National Research Council Canada (NRC) office in London, Ont.
The open-concept collaborative workspace designed by Diamond Schmitt Architects transforms an existing NRC laboratory to accommodate all levels of the automotive and manufacturing supply chain to work together with the NRC in developing technical solutions for the design of products and services. 
"These advanced high-tech sectors will operate in a range of workspaces designed for collaborative ventures that also provide project confidentiality," said John Featherstone, principal, Diamond Schmitt Architects.
Program space at the 15,550-m2 (16,740-sf) Manufacturing and Automotive Innovation Hub includes four labs, two vehicle bays, a high crane bay, and 857 m2 (9225 sf) of collaborative workspace on the second floor. Large, energy-efficient skylights are used in the diagnostic labs to increase daylight. A moving partition separating the automotive bays doubles as a whiteboard.
"We are very excited to open the NRC London Manufacturing and Automotive Innovation Hub, our newly renovated collaborative facility to better support Canadian industry with the rapid advancements in manufacturing and vehicle technology," said David Muir, director of research and development at NRC in London.
Diamond Schmitt is currently working with the NRC on two additional projects. The Canadian Centre for Advanced Material Manufacturing (CCAMM) in Mississauga, Ont., and the new Advanced Manufacturing research facility in Winnipeg.