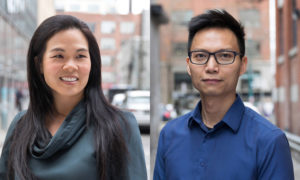 Toronto-based Diamond Schmitt Architects has appointed Sybil Wa and Nigel Tai as principals with the firm.
The promotion of the two senior associate architects recognizes their contribution to design excellence and skilled project management on a wide range of projects, the firm said in a press release.
Wa's career path with Diamond Schmitt began while still in high school, before deciding to pursue architecture. She returned while studying the profession at university and was hired upon graduation.
Her work includes civic and institutional projects with a focus on performing arts venues. Among these are the Four Seasons Centre, Ont., and the renewal of what is now the Meridian Arts Centre in Toronto, the Mariinsky Theatre in St. Petersburg, Russia, and the FirstOntario Performing Arts Centre in St. Catharines, Ont.
Now based in New York City where she manages the firm's studio, she is a member of the design team on the re-imagination of David Geffen Hall, the home of the New York Philharmonic at Lincoln Center.
Tai joined Diamond Schmitt in 2008 after working in Hong Kong and London. He has managed complex institutional projects from design concept approval to building opening in a highly condensed time frame, as little as two years.
He was project architect on the award-winning Environmental Science and Chemistry Building at University of Toronto Scarborough, now recognized as a model of sustainable design in the laboratory typology.
Tai is currently managing the design of two student residences at Queen's University and Carleton University, and the final phase of construction of Transit City, the residential project that is at the heart of the new Vaughan Metropolitan Centre, Ont.