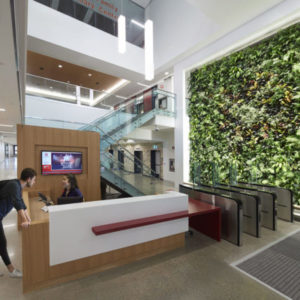 A former department store now houses state-of-the-art academic facility designed by Diamond Schmitt Architects and Philip Agar Architect for Fanshawe College in downtown London, Ont.
The 10,600-m2 (114,000-sf) building transforms a historic store into a vibrant urban campus. Some of the original features and materials are incorporated in the newly built facility, which retains its street character fronting on Dundas Street.
The new building is home to the schools of tourism, hospitality, culinary arts, and information technology. The seven-storey structure includes a setback three-storey addition above the original building with a façade enlivened by colourful metal panels and varying densities of frit on the glazing.
A student-run restaurant animates the ground floor, which also features a two-storey biofilter living wall, amphitheatre seating, and an open corridor linking the Dundas and Carling Street entrances. The academic program provides five culinary labs, a raked-seating demonstration lecture theatre, a teaching restaurant, four classrooms, and 11 computer labs. Student terraces line the fourth floor.
"The building site is 55 m (180 ft) long and narrow, so to bring in daylight and enhance the transparency, a lightwell and staircase in the centre of the building extends to the second floor main event space," said Sydney Browne, principal, Diamond Schmitt Architects.
The former Kingsmill's department store dates to the late 19th century and was a fixture of city life in London. The stone façade and awning on Dundas Street have been preserved while the adjacent red brick annex was taken down, restored, and replaced. Other original features incorporated in the design include reclaimed wood joists, a tin ceiling, and locally made yellow brick. The pneumatic tube messaging system and the original store safe are both on display.
The $66.2-million campus is the largest single project by Fanshawe College.
"It is rewarding to see this project come to life and to feel the energy of an additional 1600 students in downtown London," said Peter Devlin, president of Fanshawe College.