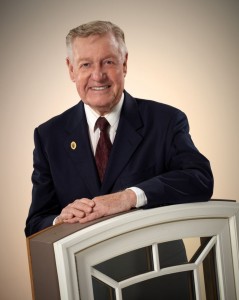 Last month, the man behind a Burlington, Ont., window manufacturer was honoured with the Queen Elizabeth II Diamond Jubilee Medal.
The award, which went to Reginald Pollard (Pollard Windows), recognizes Canadians who have made a positive contribution to their communities in the past 60 years. It marks the 60th anniversary of Her Majesty Queen Elizabeth II's accession to the throne.
Pollard Windows began operations in 1948, a year after carpenter Norman Pollard arrived in Canada with his family from Great Britain. The company now operates out of a manufacturing facility and specializes in new and restored window assemblies.
In addition to this award, Pollard was also a recipient of the Burlington Entrepreneur of the Year by the Burlington Economic Development Corporation (BEDC) this year.
"I was surprised and deeply honoured to be awarded this Queen's Jubilee medal," he said. "Originating from Great Britain, this award has a special significance in the sense that I, like many others, came to Canada with a dream and achieved great success in building a business from the ground up."