By Sadia Badhon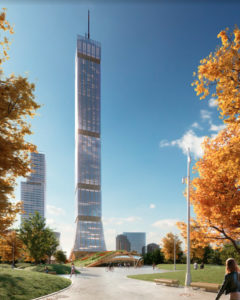 Design firm DIALOG has developed a prototype design that could see hybrid mass timber towers sprouting in major cities and climbing as high as 105 storeys.
The patent-pending design will also produce hybrid timber towers that are zero-carbon—a made-in-Canada solution to one of the world's most pressing issues: climate change.
DIALOG's prototype hybrid timber floor system (HTFS) would use a unique combination of sustainably harvested timber, steel, and concrete. The system will allow for hybrid wood buildings with fewer support beams resulting in more spacious floorplates, which can be built to greater heights. The result will be cleaner, elegant towers that will fight pollution rather than cause it.
DIALOG spokespersons Craig Applegath (architect and founding principal of the Toronto studio), Thomas Wu (structural engineer and principal), and Daria Khachi (structural engineer and principal) shared their insights with Construction Canada on this prototype.
What are your next steps for this prototype design?
Wu: The design of HTFS has been peer-reviewed by independent engineers from two different DIALOG studios. Full-scale structural testing on short- and long-term loading was planned for mid-2020. However, due to COVID-19, this task was put on temporary hold and is currently expected to resume full-scale testing in 2021.
Full-scale fire testing is also being considered. Currently there is no control fire chamber that can house a 12-m (39-ft) cross-laminated timber (CLT) panel. Fire testing capabilities and options are being investigated, Wu added. All testing will be done under University of British Columbia's (UBC's) supervision.
Applegath: We will also be looking for potential developer partners around the world who would be interested in turning the prototype into a real building. We will continue to work with our collaborative partners—EllisDon, RWDI, Morgan Solar, and Pond Technologies—to explore how we might implement these design strategies in other building projects. We already have developers talking to us about how to use our hybrid timber design strategies in mid-rise buildings.
One of the goals of this prototype is to help demonstrate people can construct buildings that positively impact human and environmental well-being while changing skylines around the world. How will it do that?
Applegath: The Earth is in trouble! We need to cut global carbon emissions by 45 per cent by 2030 to avoid the worst effects of climate change, and buildings and construction currently account for some 39 per cent of energy-related carbon emissions.
We started with the question, "How can we maximize the overall use of sustainably harvested wood in high-rise construction in the most cost efficient, energy efficient, and elegant manner and create a zero-carbon building?" This design prototype demonstrates the path forward to making more sustainable super-tall structures.