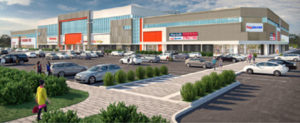 Plans have been unveiled for the redevelopment of Lawrence Square in Toronto, now re-named as 'Lawrence Allen Centre.' The reimagined shopping centre includes new retail tenants, a modernized interior, fully renovated food court, and upgraded amenities.
The urban, mixed-use property will offer more than 80 stores and services.
"Lawrence Allen Centre will serve as the hub in this important and rapidly redeveloping Toronto neighbourhood and we look forward to being part of the continued growth and prosperity here," said Jonathan Gitlin, president of RioCan. "We focused on enhancing the existing spirit of the neighbourhood, ensuring the design, service, and retail mix suit the immediate and long-term needs of the community."
Lawrence Allen Centre comprises over 34,653 m2 (373,000 sf) of retail and over 28,243 m2 (304,000 sf) of office space. A recladding of the building's exterior façade is underway and scheduled for completion in spring next year.
Additionally, the renovated interior features clean lines, natural light, and an uncluttered and inviting space.