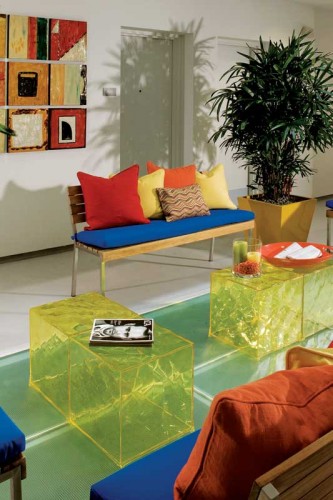 By Ron Pitts
When using the Whole Building Design Guide (WBDG) approach espoused by the U.S. National Institute of Building Sciences (NIBS), team members pool together their knowledge instead of parcelling it out to specialists who work in isolation from one another. Such integration allows building teams to more efficiently evaluate and manage the design for cost, quality-of-life, and long-term performance (among other factors) from technical planning throughout construction.
According to the WBDG, this "provides the strategies to achieve a true high-performance building: one that is cost-effective over its entire lifecycle, safe, secure, accessible, flexible, esthetic, productive and sustainable." (See Don Prowler and Stephanie Vierra's "The Role of Buildings and The Case for Whole Building Design," available at www.wbdg.org/wbdg_approach.php).  On a smaller scale, it provides an analogy for fire-rated glass systems.
Like holistically designed buildings, fire-rated glass and frames designed to work together as a cohesive unit can achieve a higher performance level. From enhancing functionality and esthetics to providing high levels of fire and life safety, the benefits of today's sleek, fire-rated frames and clear, fire-rated glass are further realized in system solutions.
Esthetic benefits
With new combinations of fire-rated glass and frames, it is possible for building teams to meet code requirements without sacrificing esthetics.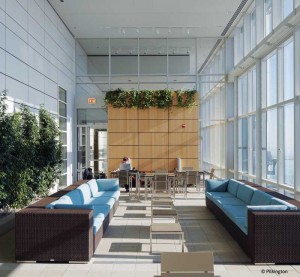 Greater design flexibility
A primary way fire-rated glass systems contribute to building design is by expanding the range of options available to architects, specifiers, and other building professionals. The emergence of integrated product combinations has made it possible for building teams to meet fire ratings and have large expanses of glass, instead of being limited to smaller windows, borrowed lites, and small view panes in doors. (For more on this, see "Fire-rated Glazing Evolution.")
Today, building teams can select from numerous fire-rated glazing system options such as:
door assemblies;
transparent glass walls;
curtain walls;
silicone-glazed curtain walls; and
glass floors and roofs.
Many fire-rated glass systems are available for interior and exterior use. For the former, common applications include:
corridor walls and windows;
doors;
stairwells;
glazed elevator cores;
interior separations in lobbies and central gathering areas;
atriums; and
glazed floors and ceilings.
Exterior applications include:
curtain walls and doors where shallow lot lines necessitate blocking a fire's spread to adjacent buildings;
storefronts;
skylights; and
ceilings that double as a walking surface.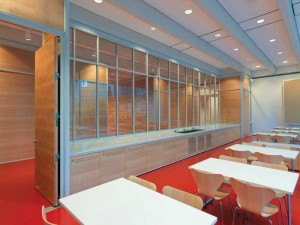 Consistency with other building elements
Modern fire-rated glass systems overcome a key design challenge—maintaining visual consistency between fire-rated and non-fire-rated materials. Previously, fire-rated glazing tended to have much thicker frames and glass to provide the necessary fire protection, creating esthetic discrepancies with neighbouring curtain walls, windows, and doors. Advanced fire-rated glass systems, however, use new fire-rated steel frames that can improve sightlines and views, and feature well-defined corners and crisp edges for smooth integration with surrounding applications.
Taking integration one step further, some manufacturers are now offering silicone-glazed (SG) fire-rated curtain walls (see "The New Generation of Fire-rated Glass," page 20). Such systems feature silicone-sealed glass that offers a smooth, frame-free exterior surface, visually tying in with neighbouring structural silicone-glazed curtain wall systems.
When it comes to fire-rated frame appearance, the reality is building teams can achieve nearly any look to complement non-fire-rated frames. These can be custom-painted or powder-coated to match virtually any colour scheme. There are even authentic hardwood, fire-rated framing options, as well as products with the look of stainless steel.

Control the content you see on ConstructionCanada.net!
Learn More.