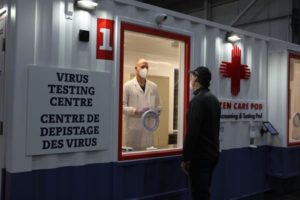 Canadian design professionals worked together amidst the COVID-19 crisis to launch the Citizen Care Pod, a smart screening and testing pod that integrates intelligent technology within a modular design to support a safe, responsible recovery for governments, businesses, and communities.
The Citizen Care Pod is a customizable unit outfitted with the capabilities to enable turnkey mobile COVID-19 testing in high-traffic business environments and communities with the goal of expediting testing, screening, and eventually vaccination on mass scale.
A multi-disciplinary team of industry leaders led by Citizen Care Pods Corporation (which is co-founded by Carl Demarco and Zenon Radewych), WZMH Architects, and PCL Construction collaborated with Insight Enterprises and Microsoft to bring the Citizen Care Pod from concept to completion in less than a month.
Utilizing modular construction methods, PCL Construction is manufacturing and assembling the pods by retrofitting shipping containers with customizable options to support rapid delivery and installation to any site, including high-traffic or remote locations.
The integration of technology has been critical in the vision of the Citizen Care Pod. It is equipped with a suite of intelligent, customizable technologies powered by the Microsoft Azure cloud platform and Azure AI, including the Insight Connected Platform and PCL's Job Site Insights Internet of Things hubs, to enable safety and security in the physical testing environment for patients and front-line health-care workers.
The customizable and portable structure is a ready-to-use solution for large-scale businesses, public works, sports and entertainment venues, airports, transit centres, and more to support economic recovery. The core focus of the Citizen Care Pod is to not only provide relief to over-burdened hospitals, but also empower businesses and communities to be leaders in health promotion and disease prevention.
The Citizen Care Pod has applications beyond the COVID-19 pandemic, including the option to add capabilities for testing and screening for flu season and viral outbreaks, delivering vaccines, and can be further augmented to address future public health needs.
Citizen Care Pods Corporation is in negotiations with a national lab diagnostics company to deliver a reliable, convenient testing experience for Citizen Care Pod patients.