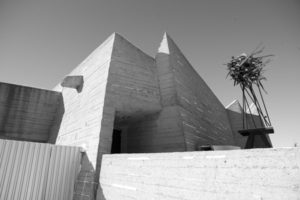 Gibbs Gage Architects (Calgary) and KPMB Architects (Toronto) have been selected to help transform the Centennial Planetarium in Calgary into a gallery for modern art.
In June 2018, the City of Calgary and arts society Contemporary Calgary announced its intent to partner on a new gallery. A request for proposals (RFPs) for architectural design services was then issued.
"The transformation of the iconic 1967 Planetarium into a destination for modern and contemporary art will be a dynamic catalyst for the emerging downtown-west community, providing an important cultural anchor in the centre city," said David Leinster, CEO of Contemporary Calgary. "The project will both reflect and enrich the evolving values of Calgary as a sustainable, creative, and entrepreneurial city."
The design will be led by KPMB partner Bruce Kuwabara. Kuwabara and the team at KPMB have experience designing award-winning galleries and museums including the Remai Modern in Saskatoon, the Gardiner Museum in Toronto, the Ottawa Art Gallery, and the Canadian Museum of Nature in Ottawa. Gibbs Gage Architects will have a leadership role in Contemporary Calgary's new facilities.
Contemporary Calgary expects to share design concepts in the spring.