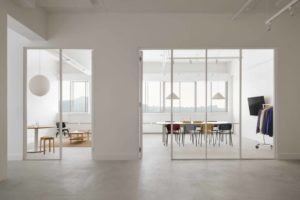 Staying true to the brand personality of Dime, a skateboarding company in Montreal, interior design studio Vives St-Laurent created a headquarters intended to foster a sense of family and collaboration, as well as achieve commitment and participation from the employees.
According to responses from team members to a preliminary survey developed by the design team, Dime is a fun, progressive, and laid-back company. The designers sought to address this brand personality in the layout of the spaces and the use of furniture and accessories.
The company's new collaborative space is in the heart of a former industrial sector in Montreal's Mile-End district. The views of Mount Royal convinced the founders to move to the 6th floor of the Casgrain Avenue building. Airy and simple, the space comprises several open and closed areas, to enable collaborations between team members. A large common area, which includes a vestibule, a lounge, and a kitchen, is featured at the suite's entrance.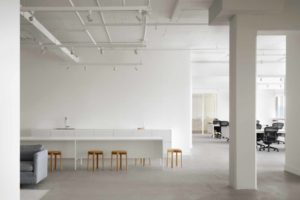 The overall design pays homage to a bare minimalist esthetic, dominated by white and complemented with wooden trimmings and furniture. To achieve the feeling of community, which is crucial for the brand, an open-concept kitchen is positioned at the centre of the space.
The kitchen's design is focused on a large, steel, island-type table, creating space for informal meetings and socialization. Connected to the entrance and kitchen are two meeting rooms of different sizes. The largest one, which can comfortably fit 10 to 12 people, is intended to facilitate the design and development teams' daily reviews. The second room offers a more flexible and modular layout to accommodate a variety of team needs.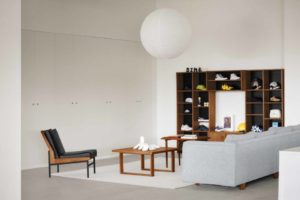 The use of residential-style furniture accentuates the comfort of this second meeting room and contributes to the relaxed atmosphere of the office. A sofa, a side chair, and a round table can easily be moved.
Artifacts and byproducts collected throughout the years are displayed throughout, with shoes, construction helmets, photographs, trophies, and sculptures adorning the place. The office consequently becomes a neutral canvas which enables the brand's personality, renowned for its humour and innovative concepts, to speak for itself. To integrate into the industrial neighbourhood, the subdued esthetic also pays homage to the character of the locality.