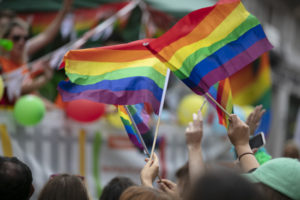 The Department of Canadian Heritage plans to build a national monument to remember the historic discrimination against LGBTQ2+ people in Canada, including those who suffered and continue to suffer due to the LGBT Purge between the 1950s and the 1990s. A design contest has been launched to select the project's design team.
Teams of professional artists, landscape architects, architects, and other urban design professionals are invited to submit their credentials and examples of work for consideration as part of the request for qualifications (RFQ) for the LGBTQ2+ National Monument. The deadline is January 5, 2021.
The monument site will be located in Ottawa, Ont. The LGBT Purge Fund selected the site after consultations with LGBTQ2+ communities. The National Capital Commission (NCC) approved the choice of site in January 2020.
The site will have the capacity to host gatherings of as many as 2000 people and balance public visibility and space for contemplation.
The design competition jury will include experts in the fields of visual arts, landscape architecture, architecture, urban design as well as LGBT Purge survivors, representatives from key stakeholder groups, and subject-matter specialists. The jury will review the submissions and select up to five teams, who will then be invited to prepare design proposals for the monument.
The LGBT Purge refers to the period when LGBT members of the Canadian Armed Forces, the Royal Canadian Mounted Police (RCMP), and the Canadian federal public service faced systematic discrimination, harassment, and, often, firings due to their sexual orientation, gender identity, or gender expression as a matter of policy and sanctioned practice.
Over time, survivors and their allies worked to secure apologies, gain recognition, win compensation, and change Canadian law. A ground-breaking settlement was reached in 2018. Canada was the first country in the world to provide substantial compensation for the harm inflicted on its own people through decades of state-sponsored discrimination.
"The LGBTQ2+ National Monument will be an enduring and important marker to commemorate the deep, state-sanctioned discrimination experienced by LGBTQ2+ people in Canada for many decades," said Michelle Douglas, executive director, LGBT Purge Fund. "The LGBT Purge Fund is proud to provide the funding for this project and to ensure the voices of the LGBTQ2+ community are extensively consulted on the vision for this project."