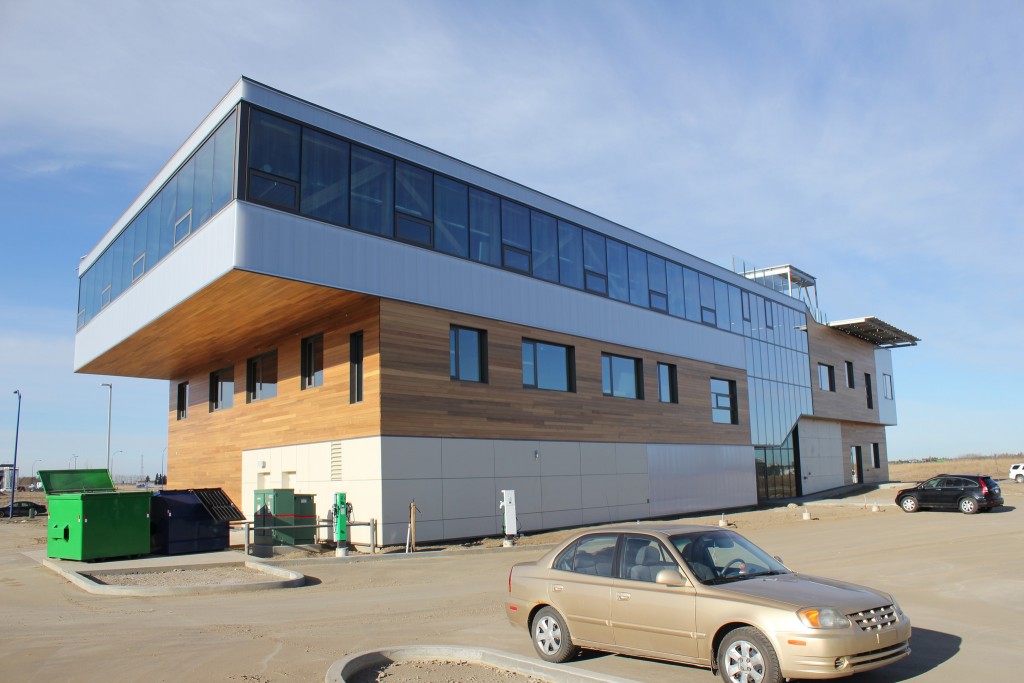 During the 10-year anniversary of the Alberta Steel Design Awards, the Canadian Institute of Steel Construction (CISC) recognized six buildings showcasing excellence in the industry.
Winning the Engineering Award was the Edmonton International Airport Combined Office and Control Tower, which was submitted by DIALOG. It was part of the 2012 airport expansion that responded to increased ridership and the pressure it had placed on the existing infrastructure and buildings. The combined tower houses a new cutting-edge air traffic control tower, expanded retail precinct, and administrative offices.
The Peace Wapiti Academy won the Building Communities Award. The 500-student Northern Alberta school was submitted by Leder Steel because of its new, hybrid roof. Due to rising student populations, existing schools needed to be in better condition, and the school's previous roof could not support snow loads during the winter anymore. With 142 tonnes (157 t) of structural steel, the 4645-m² (50,000-sf) roof was built resembling ornamental elk antlers.
The Steel Edge Award was given to Glacier Skywalk. In 2010, Brewster Travel Canada issued a request for a new attraction to bring people from around the world to Jasper National Park. Submitted by Read Jones Christoffersen, the curved glass walkway extends 30 m (100 ft) beyond the cliff face and suspends 280 m (920 ft) above the Sunwapta River. The designer cantilevered the structure to blend with the natural environment.
The Jeanne and Peter Lougheed Performing Arts Centre received the Sustainability Award. The facility was built through a partnership between the city and county of Camrose, the province, and the University of Alberta. Submitted by Canam Buildings, it was designed with a focus on sustainability, collaborating between stakeholders, and community development.
The Physical Activity and Wellness (PAW) Centre at the University of Alberta, submitted by Group2 Architecture Interior Design, won the Architectural Award. The 17,000-m² (183,000-sf) building encourages healthy lifestyle choices by offering wellness activities, fitness, sports research, and student service spaces. It also houses the Steadward Centre—a research and program facility for the disabled.
Lastly, the Collaboration Award was given to the Mosaic Centre for Conscious Community and Commerce. This work-in-progress employs an integrated project delivery (IPD) methodology, a framework turning the various participants into a collaborative team simulating one mentality. The centre will meet three objectives: beauty, sustainability, and affordability, and its success is based on its ability to achieve these objectives and inspire change.