by Michael Stanzel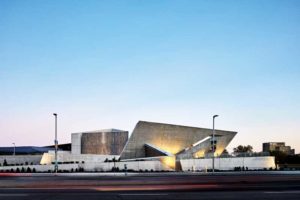 Self-consolidating concrete (SCC) is designed to flow and consolidate on its own without internal vibration. It can maintain enough cohesivity to fill any form without significant segregation or bleeding. This makes SCC useful where placing conditions are difficult, such as in highly reinforced concrete members or where complex geometries are required. Since its inception in 1988 in Japan, the use of SCC has grown. The development of high-performance admixtures, complex design algorithms, and appropriate test methods have made it possible to advance SCC technology, while maintaining or improving the concrete's strength and durability.
Benefits of SCC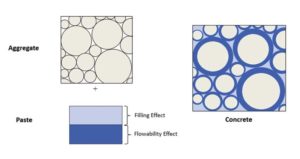 Although SCC is not a magic bullet or the optimal solution for every job, there exist a number of applications where its unique characteristics offer significant benefits, such as in architectural members, precast columns, beams, tanks, heavily reinforced concrete elements, and for formed repairs. Some of the advantages for improving constructability by using SCC include:
ease of placement and flowability;
faster placement rates with less effort, thereby reducing project costs, time, equipment, labour, and rework;
more uniform architectural surface finish;
enhanced strength and durability parameters due to a low water-to-cement (w/c) ratio;
greater flexibility for innovative structural and architectural design, shapes, and finishes;
improved consolidation around and bond with reinforcement and other embedded elements;
enhanced pumpability and reduced wear and tear on equipment; and
reduced risk of worker strain or injury and noise levels.
Design of SCC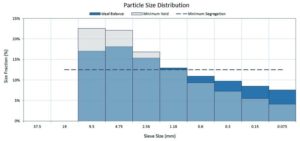 At its simplest, SCC is a mixture of two different phases. Aggregates form the skeleton of the concrete and are a strong, stable, economical, and inert component. The paste (a mixture of cementitious materials, water, admixtures, and entrained air) is the phase that hardens and binds the aggregate together into one strong, durable mass. Based on mix specifications and requirements, the basic design philosophy is to first generate an optimal combined gradation of aggregates to balance the consistency and economy of the mix. Once the desired gradation is achieved, one wants to fill the leftover void spaces between the particles with cementitious paste designed to perform according to the project's strength and durability requirements. An optimal quantity of paste creates a thick enough layer around each particle to provide enough lubricity for the required particle mobility (Figure 1).
While conventional concrete has a higher proportion of large aggregates to maximize particle packing and minimize paste requirement, a flowable concrete requires a more uniform distribution of the overall gradation to maintain cohesivity. The trick with SCC is to find the sweet spot balancing both requirements. More information on the mix design process can be found in the American Concrete Institute (ACI) 211.6T, Aggregate Suspension Mixture Proportioning Method (Figure 2).

Control the content you see on ConstructionCanada.net!
Learn More.