Decorative Ceiling Panels: Opting for metal or styrene design
by Elaina Adams | March 1, 2012 2:27 pm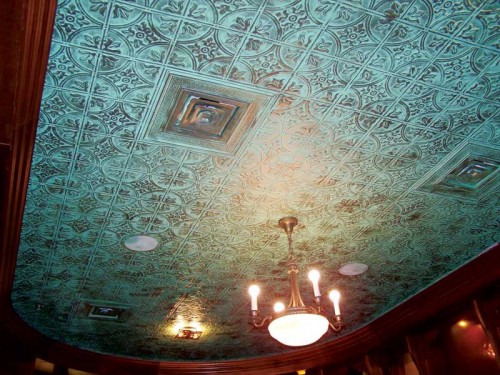 By Jeff Fuller
The finishing of ceilings quite often takes a backseat to many other esthetic categories like flooring and trimwork. Nevertheless, by overlooking the ceiling, one may be missing out on a significant architectural and decorative aspect of the project. In terms of a visual 'look,' the ceiling can be just as important a design item as the flooring.
The beauty and historical accuracy of tin ceilings can bring to life residential, restaurant, or hospitality spaces. What was once considered an answer to the wealthy European ornate plaster ceiling became a standard for the middle class. Unfortunately, real tin panels are now extremely hard to find. Salvaging used items can be a very trying process to get what one wants as far as style, and can also come at a very high cost.
To mimic the look of real tin, product manufacturers have developed decorative panels in metal and thermoformed styrene (i.e. faux or plastic) options. With styles ranging from Victorian and Classic to Modern, these finishes can be used not only for high-end residential and hotel spaces, but a wide range of building types.
As with any material in the construction industry, however, the cost factor is very important. Deciding whether a metal or styrene product is the best fit can be determined by considering the materials' advantages, pricing, and installation techniques.
Metal panels
Metal panels cost more than faux panels. Copper and brass are the most expensive—approximately $75 to $96/m2 ($7 to $9/sf)—and typically used on extreme high-end applications or for historical accuracy. Steel and aluminum are slightly less expensive at $21 to $42/m2 ($2 to $4), but still come with a high price tag. There are two other additional costs that come into effect with metal panels: the labour and the substrate. These metal panels can be used in either a grid system or applied directly to a solid surface such as plywood.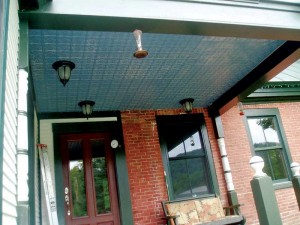 Steel panels are very similar to aluminum products in many ways, and both are made in the fashion of a press-like stamping. The former's advantage over the latter is the strength of the panel and its availability. Aluminum, on the other hand, is lighter to work with, and will not rust. Therefore, this material is typically used in areas that will be exposed to humidity or wet conditions, such as backsplashes.
Metal panels come in a few different sizes, the most common being 0.6 x 1.2 m (2 x 4 ft). The difference in sizing comes down to whether they are being used in a T-grid or just being applied to a wall or ceiling surface. Metal panels can weigh about 1.4 kg (3 lb) in comparison to 0.5 kg (1 lb) for styrene. This weight is not an issue when using a T-grid suspension system or when the proper framing is specified.
Installation
Installation of metal panels can be very labour-intensive. Finding a contactor that has the experience and know-how can sometimes be challenging. Before installation, there needs to be a substrate applied to the ceiling or wall; this can be in the form of plywood or 1×4 furring strips.
If using furring strips, one can adjust and shim while applying them to ensure there is a nice flat surface with which to work. If there is already a flat surface (e.g. a new construction scenario), plywood might be an easier way to apply the substrate. Furring strips would need to be applied approximately 305 mm (12 in.) on centre (oc). Cross-strips are also needed where the panels will be overlapping for additional support parallel to the furring strips.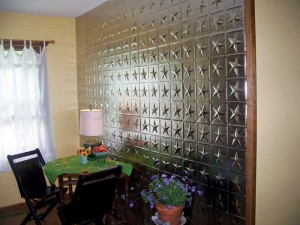 Once the surface is prepared, the next step is making certain the panels are laid out in the most visually preferable way. When deciding where to start, important considerations include the locations of the entrances, the direction from which the light is coming, and how the cut edges will end. For example, at a main entrance into a room, it makes sense to start at the farthest point so the closer panels overlap the others to hide seams. (Another route would be to opt for a suspension system.)
When nailing metal panels in a direct application, it is important to drive the nail at an angle to give maximum strength and hold. The nail should be set in the nipple portion on the panel's outer edge. This nipple or dot is designed for the nail application. When applying the next panel, one is overlapping at the panel's dot dash area—this is where there needs to be additional support or furring. When a cut sheet is needed, the cut side is to be placed on the wall side. This cut edge can be hidden by a cornice.
The finishing of metal panels needs to be done before installation. This is because they need to be finished on the back side as well as the front to help prevent rust. Many times they are primed front and back before installation then after installation the desired colour is applied. One should avoid water-based paint as it will rust the metal. Any gaps occurring in the cornice edges can be filled in using a liquid solder prior to painting.
The metal panel is versatile, and can be used on walls, wainscotings, and backsplashes. Steel must be painted to prevent rust; the added benefit is this allows colours to be matched to the rest of the décor.
Styrene panels
As a synthetic alternative to metal, styrene panels bring some impressive attributes, including:
clean, crisp detail;
cost-effectiveness;
solid colouring; and
ease of installation.
As with metal panels, these styrene products are often 0.6 x 1.2 m (2 x 4 ft) to maximize coverage.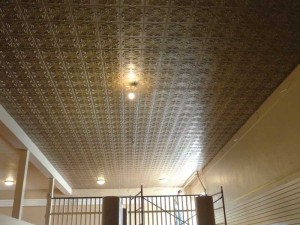 Since these panels are thermoformed (i.e. created using a process involving heat and pressure), they have a very fine detail that cannot be matched with metal. They are also very cost-effective in terms of both the upfront cost of the panel, as well as the overall labour expenses. White panels are typically priced in the range of $16/m2 ($1.50/sf).
Solid-coloured panels are uniform in their look all the way through the product—there is no painting needed, making them much more durable through the installation process and the after-care. These coloured panels are priced at approximately $27/m2 ($2.50/sf). If the standard hues available do not work for the specific application, white panels can be spray- or latex-painted. (With the latter, best results come from priming first.) 'Patina' options (like on page 46) are also available.
Styrene panels are also the same thickness as metal panels and typically do not dent. This multifaceted panel can be used indoors or outdoors; as it is not affected by moisture, one need not worry about areas with high humidity (e.g. bathrooms or pool areas).
To most people, there is no discernible visual difference between installed styrene and metal panels.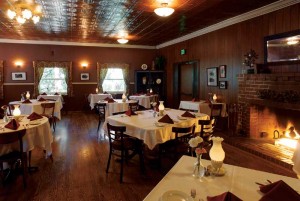 Installation
The most desired attribute of the styrene panel is its installation. They can be installed on any clean, dry, solid surface. They are not nailed up, but are rather glued using the approved adhesive recommended by the manufacturer. Since the panels are styrene, slight imperfections in the surface can be tolerated. They can even be applied over 'popcorn'  (i.e. stippled) ceilings by just taking off the large chunks and cleaning the surface.
When applying these panels in an existing suspension system, one must glue them to the existing panel and re-lay the panels into ceiling. Glue applications are done by laying a 6.4-mm (¼-in.) diameter bead around the panel's perimeter, and in both directions in the middle of the portion staying in the dot dash sections.
Just as with metal panels, layout is very important. It is critical to consider where the entrances to the room are, where the light is coming from, and where the cut edges will end when making the decision on where to start. Adhesive is applied to the back of the panel, which is then pressed (both edges and centre) onto the surface. Again, as with metal, the next panel overlaps at the dot dash to yield a seamless look.
For the cleanest look, joints should be staggered to avoid a buildup in the corners. When it becomes necessary to cut a panel, scissors or a utility knife is all that is needed. By relegating cut edges to the perimeter of the room, one can later hide them with any type of crown moulding or trim to finish it off. When working around recessed lights or items in the middle of the room, the styrene panel is easily cut out with the utility knife; metal panels can be much harder to work with—metal snips are used.
The styrene panels can also be used in areas besides the ceiling, including entire walls, wainscotings, cupboard doors, or backsplashes.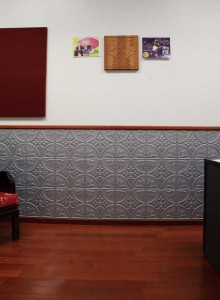 Other considerations
With considering risks associated with fire, metal panels can be somewhat of a hazard when proper precautions are not taken. This is because the metal panel can trap the flame above it, creating pockets of fire that can be very dangerous for firefighters. Styrene panels are Class-A fire-rated and restrictions are only limited per the prevailing code.
Longevity of styrene and metal panels depends on the environment they are in, as well as the installation and preparation employed. Metal panels must be treated on both sides to keep the panels from rusting. Styrene panels must be applied to a solid surface with an approved adhesive.
With respect to noise control, the metal panels have no acoustical value. In fact, they can actually contribute to a higher ambient noise level in the installed area because they reflect all the noise energy. The styrene panels have been tested and have a noise reduction co-efficient (NRC) rating of 0.20 based on adhesion to gypsum wallboard or plywood.
Conclusion
More often than not, the ceiling is forgotten as a decorative and architectural field. The metal and styrene panels bring a visually dynamic and versatile aspect to any project. Knowing full well the area of flooring is in direct relationship to the area of ceiling, it seems strange many design professionals ignore this blank canvas.
Of course, plain drywall and paint will suffice for many owners, but opting for decorative ceiling tiles helps separate one project from the rest. By delving into metal and styrene products and considering the design options, colour combinations, cornices, and trims, the possibilities become virtually endless.
Jeff Fuller is the general manager of Surfacing Solutions. As a graduate of Mankato State University (Minnesota), he brings a wide range of experience in sales, marketing, and project management. Fuller has extensive experience in residential and commercial construction, working with designers and architects across the continent. He can be contacted via e-mail at jeff@surfacingsolution.com.
Endnotes:
[Image]: http://www.constructioncanada.net/wp-content/uploads/2015/12/309patena.jpg
[Image]: http://www.constructioncanada.net/wp-content/uploads/2015/12/PorchCeiling.jpg
[Image]: http://www.constructioncanada.net/wp-content/uploads/2015/12/100_8936.jpg
[Image]: http://www.constructioncanada.net/wp-content/uploads/2015/12/osage-iowa-001.jpg
[Image]: http://www.constructioncanada.net/wp-content/uploads/2015/12/Dining-room-2011.jpg
[Image]: http://www.constructioncanada.net/wp-content/uploads/2015/12/IMG_0144.jpg
Source URL: https://www.constructioncanada.net/decorative-ceiling-panels-opting-for-metal-or-styrene-design/
---