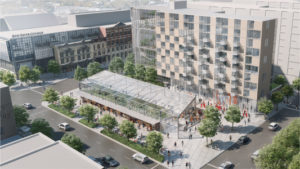 Daoust Lestage's proposal has won the Market Lands southern parcel design competition in Winnipeg. CentreVenture Development Corporation said the 'new market square' idea was the jury's unanimous choice.
The jury appreciated the clarity of the proposal and agreed its stand-alone glass market structure and surrounding plazas presented an inviting space for visitors. The orientation of the plan ensures the public spaces are flooded with sunlight throughout the year and at different times of day. The new market square provides a strong connection between the Red River College's heritage buildings, Old Market Square, and City Hall complex.
The competition was launched in July 2018 to solicit design concepts for new affordable housing, a public market, and plazas on the southern parcel of the Market Lands site in Winnipeg's historic Exchange District. More than 20 teams from across the country submitted proposals during the pre-qualification stage. In October 2018, five teams were shortlisted to participate in the competition.
"The jury was impressed by the high quality of all the five submissions and was so grateful for the effort and thoughtfulness applied," said architect Dudley Thompson, professional advisor to the design competition. "The winning design best responded to the competition program and presented the most successful concept to achieve a wonderful new destination in downtown Winnipeg."
CentreVenture will now work with the Daoust Lestage team, community partners, and the city of Winnipeg to refine and detail the design. Construction is expected to commence in 2020.