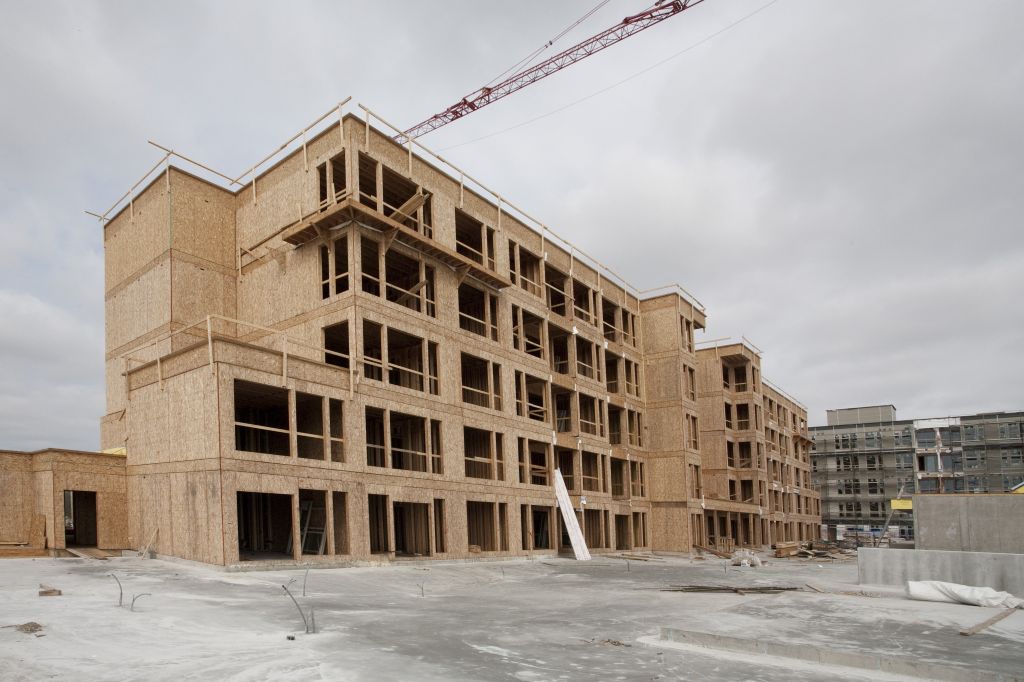 Last month's fire at the Remy housing project construction jobsite in Richmond, B.C., has led to the questioning of the safety of wood-framed buildings. The fire destroyed one of the first six-storey structures in the process of being constructed under the province's revised building codes for mid-rise residential construction.
The B.C. Ready-Mixed Concrete Association said in a statement that balanced design is a vital requirement for multi-family structures to be capable of protecting people and property against the hazards of fire.
"It combines active systems (fire detection and suppression) with passive containment and control through the use of non-combustible fire-resistive walls, floors, and roofs. Options for non-combustible concrete construction include cast-in-place floors, walls, and roofs, and cast-in-place precast, insulating concrete forms (ICFs), and masonry walls."
However, according to Michael Giroux, Canadian Wood Council (CWC) president, wood is a safe, durable building material.
"In Canada, people have been living and working in wood-framed structures, including houses, townhouses, and multi-storey apartment buildings, for a long time. According to construction statistics, more than 90 per cent of Canadian homes are built with wood," he said in a statement.
In the Remy incident, a fire occurred while the building was under construction, meaning fire safety features (e.g. sprinklers, gypsum board protection, and fire doors in firewalls) had not yet been installed. The firewalls in the project were made of steel and two layers of 25-mm (1-in.) thick gypsum liner panels—with wood-frame walls to protect them from daily wear, as required by the British Columbia Building Code (BCBC). Giroux argued the use of other types of noncombustible firewalls likely would not have stopped the fire under these same circumstances.
Brad Walton, A.Sc.T., principal for fire and building code specialists, CFT Engineering, points out this happened because the building was unfinished.
"There is always a time during construction when a building is more vulnerable to fire—this is before the fire protection measures specified by the building code are in place and before the building is occupied," he explained. "The Remy fire wouldn't have happened if the building was complete, as it would have been sprinklered, equipped with a fire alarm and fire compartments, and so on."
The fire safety of a completed building involves more than its structural composition, as the whole system must be taken into consideration, including the building's contents and its use.
Canada's National Building Code (NBC), and provincial and territorial regulations based upon it, requires buildings be designed to minimize risk of unacceptable loss by including fire protection features to contain a fire, limit its effect on the supporting structure, and control the spread of smoke and gases.
Wood walls, floors, and roofs must be designed to provide fire resistance ratings of up to two hours—a level of fire performance also required for other types of building materials—contributing to the time needed for occupants to escape and emergency responders to perform their duties.
However, no structure can be completely fireproof, and all construction materials can be affected by fire. Some building materials may not burn, but they can degrade and fail when exposed to a typical building fire, which could lead to a complete structural failure.
"This was a construction site fire, the results of which should not be taken as an indicator of the safety of a building once completed," a representative of the CWC told Construction Canada Online. "The vulnerability of any building in a fire scenario is usually higher during the construction phase, when compared to the susceptibility of the building after it has been completed and occupied."