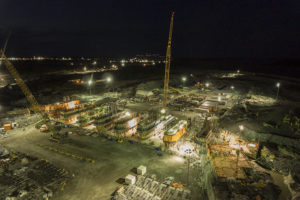 The Keeyask Generating Station is being constructed in a remote area on the lower Nelson River, approximately 725 km (450 mi) north of Winnipeg. When commissioned, the station will produce 695 MW of hydroelectricity. An average of 4400 GW hours of electricity will be supplied to both Canada and the United States annually. The facility will include a powerhouse/service bay complex on the north side. The seven-bay spillway is located on the south side, with 1.5 km (0.93 mi) between the two sets of structures.
The location has created its own set of challenges for the project team—it is difficult to send material and support to the site. The terrain is also challenging with rock elevations varying substantially. Due to the project's size, the amount of equipment required at the same time is a challenge. Additionally, the job requires a complex 3D design of the draft tube formwork. Special quality requirements include fair-faced concrete and self-consolidation concrete (SCC) mix design throughout the project. All forms are designed for a full liquid head concrete pour pressure. To work under these conditions, the contractor hired two field service technicians and one site engineer to stay at camp on a 21 days 'in' and seven days 'out' rotation.
Specialists worked tirelessly for months, using 3D printed models and state-of-the-art 3D CAD programs to put together a package. The team is using a retractable formwork, which makes it possible to clean the formwork even where there is densely placed reinforcement, carry out reinforcement work while protected by the formwork, and also install and strip box-outs and anchors.
With its ease of use, the formwork is easily transferred from one area to another when finished on a particular section, meaning less onsite equipment. The formwork provides for worker safety as 2-m (8-ft) wide platforms are integrated into the design. The system is also efficient because equipment can be recycled and reused.
Construction on the station began in July 2014 and is expected to run until late 2021. It is estimated to cost $7.2 billion.