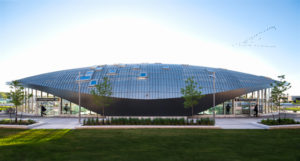 The highly contemporary Vaughan Metropolitan Centre Subway Station is an artistic jewel on Toronto Transit Commission's (TTC) Spadina Subway Extension project. One of six new facilities on the route, the station offers intermodal transit services and rapid subway connection to downtown Toronto.
The curvilinear design of the main entrance pavilion creates a futuristic appearance for the structure. The design offers a column-free interior environment with high ceilings and bright open spaces that allow daylight to penetrate deeply into the station.
Highlighting the exterior design is a metal-clad standing-seam roof that brings the structure to life. Approximately 1115 m2 (12,000 sf) of bright-rolled zinc panels clad the curved roof of the building. The roof offers high solar reflectance and combines with significant sustainable initiatives throughout the project. The station exceeds the National Energy Code for Buildings (NECB) requirements for energy performance by 40 per cent and meets sustainability standards comparable to those required for Leadership in Energy and Environmental Design (LEED) Silver certification.
More than 1000 tapered panels were fabricated at a plant in Exeter, Ont. Each panel had an individual taper and length. The 3- and 4-m (10- and 12-ft) long panels were curved onsite.
"The architects wanted an old-school appearance with hammered seams and the manner in which the flashings and counter-flashings were done. There was a painstaking amount of detailing done around the 46 skylights in the roof. Each one required custom attention. We had productions crews on the job getting the panels down and then finishing crews crafting the detail work," said Trevor McGrath of Bothwell-Accurate, the installer on the project.
Design for the station was a collaboration of Grimshaw Architects (design architect) and Adamson Associates Architects (architect of record) in conjunction with Arup Canada.
The domed entrance pavilion integrates a mirrored ceiling art installation by Paul Raff Studio, which captures the drama of moving passengers and changing light conditions. As well as encouraging greater use of public transportation, the station creates an enjoyable pedestrian experience with accessible paths, intuitive wayfinding for onward travel ,and efficient transfers between modes of transportation.
The Vaughan Metropolitan Centre is a robust, elegant interchange. According to Juan Porral, partner at Grimshaw Architects, "We are always looking for opportunity to create high quality places with real character. By elevating a functional building to something artful and full of life that people will remember and enjoy, we can have a greater impact on urban space and user experience."