By Alyscia Sutch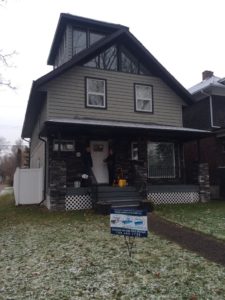 It was a misaligned pipeline that caused the tenants of a historical home from 1911 to call in Nordic Mechanical Services (NMS) when they experienced a blockage in 2016. The tenants had a 100-mm (4-in.) diameter clay and cast iron sewer lateral line that travelled to the city main in the Old Strathcona neighbourhood of Edmonton. The pipe in question fell victim to excessive root infiltration, which led to blockage of 60 per cent of the lateral line. The line was underneath the home's foundation, and because it remained under finished landscaping, the homeowner was looking for a trenchless, no-dig plumbing solution.
The homeowners were faced with two options: to do the traditional dig and replace or employ cured-in-place pipe (CIPP) lining, which was cost-effective and required no digging. The homeowners went with the latter. This pipe-lining process avoided the need to cause extensive damage and reconstruction to the foundation and landscape, which can be lengthy and expensive.
The residents faced a lot of complications with their pipes, one being structural issues such as the root infiltration. Many pipes experience structural defects in the form of cracks or corrosion. However, a critical problem is misalignment in pipes, which occurs when the pipes are not connected properly to each other. This could be caused by a slight displacement of the ground that is supporting them. This can prove to be harmful to the pipe, going as far as causing it to collapse. In this case of the tenants with the restored century home, the misaligned pipe allowed in an inordinate amount of tree roots, causing the sewer line to back up.
Before NMS could go through with the CIPP process, its team had to clean out the abundance of tree roots using pneumatic cutting tools. The tool employed rotates at 2000 rpm and can adjust to 90-degree turns in pipelines. While allowing multiple cutting heads to be attached to it, it runs at 40 cfm. This pneumatic cutter helped clear out the surplus of roots. Once the pipe is cleaned out, it is safe to move on to the CIPP process.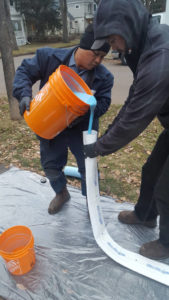 CIPP lining is a technology used in rehabilitating pipes. Not only is it cost-effective compared to traditional replacement, but it is also an environmentally responsible option, as there is no need for heavy equipment idling or removal of dirt and pipe to go to the landfill.
Being a trenchless technology, this lining can be installed without digging. By using an existing access point such as a cleanout, CIPP can be used on a variety of different pipes, including clay, cast iron, polyvinyl chloride (PVC), concrete, and Orangeburg, which is a bituminized fibre pipe made from layers of wood pulp and pitch pressed together (commonly used from the 1860s through the 1970s).
The CIPP process uses an epoxy-saturated felt liner, which is pulled into place inside the existing pipe and left to harden, essentially becoming  a 'pipe within a pipe,' although it is designed to be able to function on its own as a structural pipe should the existing host pipe deteriorate. CIPP is a seamless solution to help eliminate pipe problems, not allowing for root infiltration and covering offset pipes. During this project, the pipe lining process was completed with zero disruption or damage to the home or landscaping.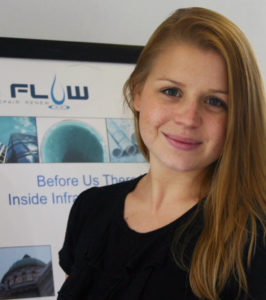 Alyscia Sutch is the marketing and PR manager for clean technology firm Aquam and its subsidiaries. She has a degree in public relations and works closely with construction, plumbing, mechanical, and utility companies that provide infrastructure support, rehabilitation, and diagnostics solutions for inside and outside infrastructure renewal. Sutch can be reached via e-mail at asutch@aquamcorp.com.

Control the content you see on ConstructionCanada.net!
Learn More.