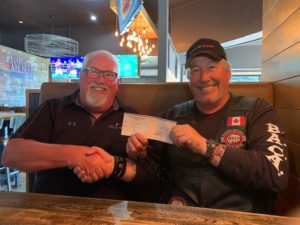 Construction Specifications Canada (CSC) and its former president David Boyle, FCSC, CTR, selected Bikers Against Child Abuse (B.A.C.A.) as the charity of choice for the CSC Conference 2022 in Niagara Falls, Ontario.
Boyle, who was the co-chair of the conference, was the key individual in approaching B.A.C.A.'s Railway City chapter to speak to the event's nearly 300 attendees. CSC donated $100 per technical speaker and held a 50/50 draw with the proceeds going to the charity's Railway City chapter. The winner of the 50/50 draw, Collette Hart, donated $750 of their winnings back to the B.A.C.A. chapter.
The $6050 collected during the CSC Conference is the largest donation B.A.C.A. has ever received, thanks to the efforts of Boyle and the CSC Conference Committee. All funds will go towards helping them achieve their mission to create a safer environment for victims of child abuse.
"We truly appreciate the hard work, amazing donation, and support," says Rayz-N, public relations and keynote speaker for B.A.C.A.