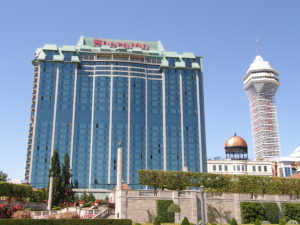 Last month, Alex Lukachko received the F. Ross Browne Award for editorial excellence for his article "Moisture Management for Tall Wood Buildings," at the Construction Specifications Canada (CSC) Conference in Niagara Falls, Ontario.
The award highlights the author or co-authors of an article in Construction Canada for originality, relevance, and style. This year, editorial advisors selected Lukachko's feature, which was published in the March 2022 issue.
Lukachko is a principal at RDH Building Science Inc., and a lecturer at the John H. Daniels Faculty of Architecture, Landscape, and Design at the University of Toronto. He works on the research and development of future building enclosure systems, and the design of high-performance, low-carbon mass timber buildings.
For more on the various awards and events associated with the CSC Conference, see the July 2022 issue of Construction Canada, which will feature an in-depth wrap-up of the show.