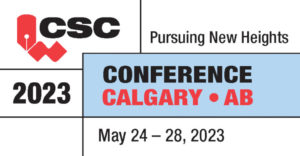 CSC Calgary is looking for a range of AEC professionals to share their knowledge and expertise on Pursuing New Heights in an ever-evolving industry. CSC Conference 2023 is your chance to do that!
Why present?
• Position yourself as a subject matter expert
• Network with like-minded professionals
• Exchange ideas and solutions to pursue new heights
• Inspire others and be inspired by fellow presenters and attendees
How to submit your proposal?
• Read through the Call for Proposal Guide
• Draft your proposal using the Call for Proposal Worksheet
• Submit your proposal to: calgary@csc-dcc.ca, cc phiebert@c-sgroup.com
Submit your session proposal by October 15, 2022
Download Documents here:
   o Appendix A: Verbs for Learning Objectives
• Call for Proposals Worksheet