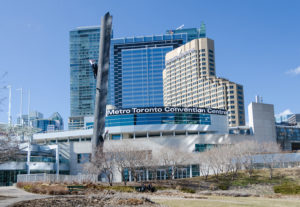 The Toronto Chapter of CSC will host the 40th annual Building Expo on Wednesday, February 28. The one-day event, formerly known as the No Frills Tradeshow, will be held at the Metro Toronto Convention Centre's South Building.
It kicks off at 11 a.m. with a brief networking event, followed by the traditional ticketed luncheon at 11:45 a.m. This year's guest speaker is Chris Adamkowski, head of industry at Google.
The tradeshow itself runs from 1 to 6 p.m. More than 200 exhibitors are slated to showcase the latest in construction technologies and services. The free expo is meant for architects, designers, specification writers, engineers, facility managers, technologists, and other building professionals.
Additionally, there will be a lecture series, featuring presentations on:
"Changes to Construction Law in Ontario;"
"The Effect of Climate Change on Structures;" and
"Building Science."
One can also earn Ontario Association of Architects (OAA) credits. For more information on the show or to register for the luncheon, contact Micah M. Rodrigues, the chapter's administrator.