Crystalline waterproofing discussed in latest e-book
March 22, 2021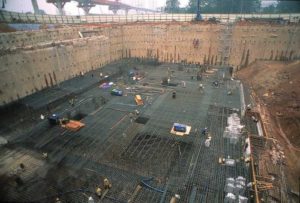 Concrete has been used for thousands of years and is the most widely employed building material in the world. According to the Cement Association of Canada (CAC), more than twice as much concrete is used in construction around the world than the total of all other building materials, including wood, steel, plastic, and aluminum.
Yet, despite its apparent solidity, strength, and durability, concrete is porous. It is also and permeable to fluid and vapour infiltration and migration. Water and dissolved chemicals, such as chlorides, sulfates, and acids, can penetrate deep into concrete, sometimes resulting in premature damage, such as reinforcing steel corrosion, freeze/thaw cracking, spalling, and chemical attack.
Added to this 'natural' porosity is the fact newly poured concrete develops cracks. This can be due to excess water, rapid drying, improper strength, settlement, and shrinkage. When it comes to building foundations, elevator pits, water/wastewater treatment and water containment structures, and many other applications, waterproofing and protecting the concrete is critical. An article in our latest sponsored e-book discusses crystalline waterproofing and protection for concrete.
This waterproofing article along with two others appears in our newest e-book "How Best to Waterproof Concrete," a free, downloadable resource. To get your copy in either pdf or digital edition, visit www.constructioncanada.net/ebook/kryton-how-best-to-waterproof-concrete-e-book[2].
Endnotes:
[Image]: https://www.constructioncanada.net/wp-content/uploads/2021/03/prj-719-10828-MYS-604-12_300dpi-500x339-1.jpg
www.constructioncanada.net/ebook/kryton-how-best-to-waterproof-concrete-e-book: http://www.constructioncanada.net/ebook/kryton-how-best-to-waterproof-concrete-e-book
Source URL: https://www.constructioncanada.net/crystalline-waterproofing-discussed-in-latest-e-book/
---